Jan 31 CFFG Distributes Funds to 4 Worthy Causes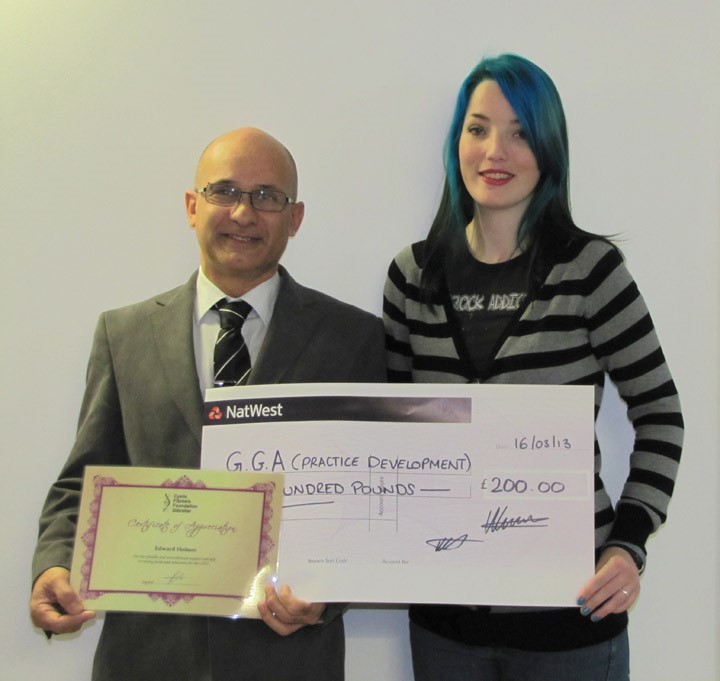 The Cystic Fibrosis Foundation Gibraltar has recently distributed a considerable amount of funds both locally and internationally.
Two cheques were presented locally to 2 very worthy causes.
A cheque for £1,000.00 was presented to Stuart Cerisola, who recently skydived in aid of the CFFG, to aid the purchase of a much-needed new wheelchair that is paramount for his day-to-day life.
Another cheque, this time for £200.00, was presented to Eddie Holmes, Deputy Director of Nursing Services & Practice Development Lead, to be used in the GHA's practice development scheme  to continue the process of developing and improving patient care and staff training.
A further 2 cheques were distributed to the UK, £500.00 was donated to the Cystic Fibrosis Trust for research and £480 was donated to the highly esteemed Manchester Adult Cystic Fibrosis Centre at Wythenshawe Hospital to help them to continue to provide first-class CF management.
Cystic Fibrosis Foundation Gibraltar
Chairperson Rosie Fernandez
Contact number: 54008614
Email: This email address is being protected from spambots. You need JavaScript enabled to view it.