Feb 20 - RGP Vessel, Sir William Jackson, Blessed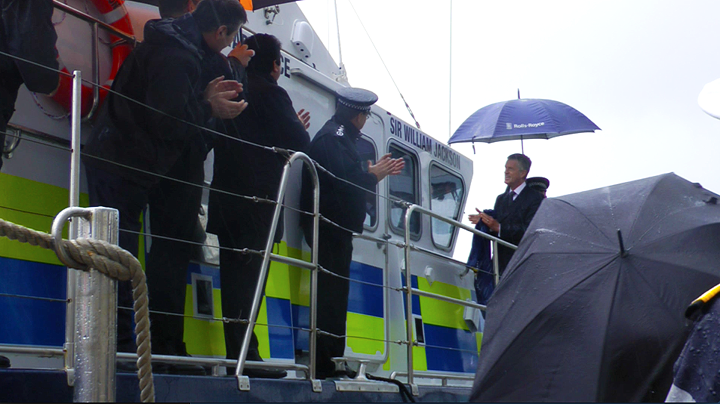 Yesterday afternoon new RGP vessel, the Sir William Jackson was officially named and blessed by Monsignor Paul Bear. Speaking at the launch, which was attended by a number of senior RGP Officers, as well as the Commander of British Forces, Commodore Clink and Governor Sir Adrian Johns, the Chief Minister noted that today's extreme weather gave us a chance to experience a little bit of what RGP marine Officers deal with in the Strait son a regular basis.
Mr. Picardo added that officers of the force, whether on land or at sea enjoy the support of our community, regardless of what may be happening politically around us. He also noted that he hoped today was one of many days that would celebrate the RGP having the resources available to do the job they do.
The vessel is a 23.5 metre twin screw patrol vessel with controllable pitch propellers. It enjoys a mother-daughter configuration, having a 6.7m RHIB daughter vessel stowed in a stern wet area. The RHIB is launched and recovered from a stern ramp which is accessed via a stern door. If required the RHIB may be launched in less than a minute.