Feb 21 - Tourist Board Hosts Birmingham Travel Trade Roadshow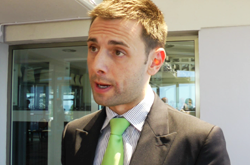 Yesterday, The Gibraltar Tourist Board held a travel trade road show in Birmingham in order to bring together travel agents from the Birmingham area and tourism industry partners from the UK and Gibraltar. The event was organised around the launch of flights from Birmingham to Gibraltar with Monarch Airlines, as from the end of March.
The road show included a workshop allowing for guests and industry partners to exchange information on their products and services. Tourism Minister Neil Costa also hosted a meal, which included a destination presentation. The event concluded with a raffle with prizes consisting of accommodation, flights, tours and travel vouchers donated by the industry partners.
Commenting on the event, Minister Costa stated, 'this is a very effective way of promoting all of Gibraltar attractions to those selling holidays directly to the consumer, in the important travel agent sector.'
He added, ' this event is of particular significance following the announcement that Monarch Airlines start services to Gibraltar from Birmingham this year, this is the new route secured by the Government of Gibraltar. We have no doubt that this route will prove successful and this follows the Government's drive to increase regional connections from the UK.'