Feb 25 - GET OUR MONKEYS BACK TO NATURE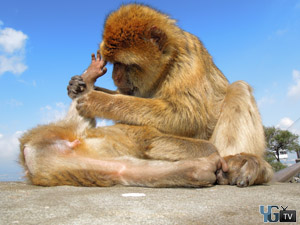 As part of the 'Get our monkeys back to nature' initiative, the Department of the Environment will be using various techniques to dissuade the Barbary Macaques from frequenting urban 'hot spots.' As macaques are afraid of loud noises, one of the methods to be used by the Department will be that of noise makers.
The general public is therefore to be aware that Environment Officers will be deploying these noise makers around different areas of Gibraltar. The first areas to be tackled are South Bastion and Laguna Estate. Residents of these areas are asked not to be alarmed if they hear loud 'bangs' in these areas at random times throughout the day, starting on Wednesday 27th February and lasting for a period of two weeks.
The Government will issue further information on additional areas which may then be tackled with this method.
The public are reminded that feeding the macaques is a criminal offence punishable with a maximum fine of £500. This activity encourages the macaques to roam outside the Gibraltar Nature Reserve.
The Government wishes to emphasise that it is fully committed to eliminating the nuisance which the Macaques are causing in urban areas.
For further information or reporting of illegal feeding please contact the feedback centre on telephone number: (00350) 200 65964.