Mar 18 - Royal Engineers to Celebrate Freedom of Gibraltar in April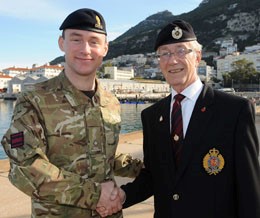 The Corps of Royal Engineers will mark its Freedom of Gibraltar with a series of events on the weekend of the 26th – 28th April 2013.
Former Royal Engineer Geoff Stone, Treasurer of the Royal Engineers Association Gibraltar, met up with newly commissioned 2 Lt Tim Barton RE who has been deployed to Gibraltar to begin preparations for the event.
A charity concert in St Michaels Cave will be held on the evening of Friday 26th April and will feature the combined bands of the Corps of Royal Engineers and the Royal Gibraltar Regiment.  The tickets will go on sale soon and more details will follow in due course.
A Freedom Parade by both serving and retired members of the Corps will take place on Saturday 27th April, they will march from Casemates Square to the RE Memorial in Roman Catholic Cathedral Square.
The Corps of Royal Engineers has a long and close affiliation with Gibraltar, the first unit of Royal Engineers were raised here in 1772 and some 200 years later in 1972 the Honorary Freedom of Gibraltar was conferred on the Corps.  This momentous occasion will be celebrated throughout the weekend. If you would like more information please call Tim Barton on 5800 9722.