Mar 19 - Gibtelecom to Conduct Biannual Customer Survey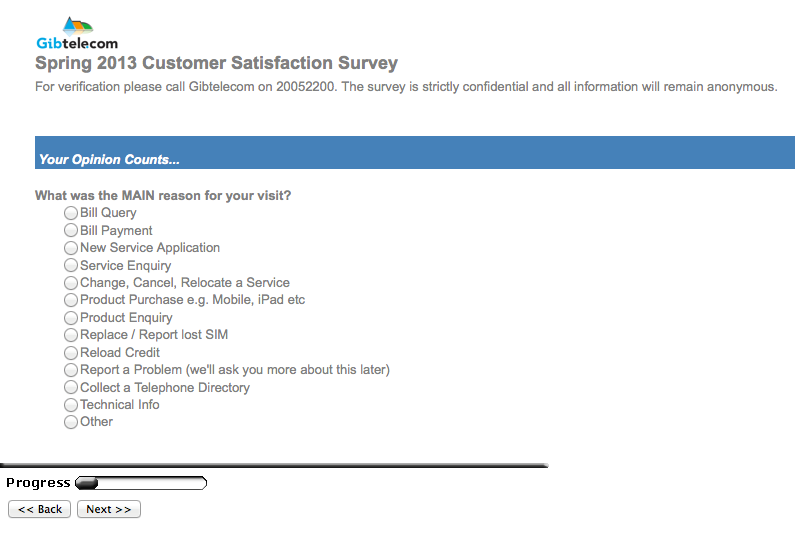 Gibtelecom will start conducting the first of their bi-annual customer satisfaction surveys for 2013 this week. Customers are invited to rate the Company's fixed, mobile and internet services and customer service and make comments suggestions if they wish. All customers participating have the option to enter a prize draw to win an iPad.
The survey provides vital feedback and understanding of customers' requirements and concerns, which is then used to continuously improve services and enhance the customer experience.
The survey is undertaken by locally based independent contractor Xcel Media Ltd, who specialise in surveys of this kind. Participants are randomly chosen and may be contacted by email or telephone to take part. The survey is also available via the online telephone directory website www.gibyellow.gi and via the Gibtelecom website www.gibtele.com
Customers are advised that the survey is strictly confidential and that any information collected will remain anonymous.
The Company has also noted that it is aware that there are a multitude of scam telephone and email surveys in operation. You will never be asked for your account number or passwords, only your name and contact details should you wish to be included in the prize draw. Gibtelecom encourages customers to check the authenticity of phone calls and emails received and should a customer who is contacted to participate like verification before participating they may contact Gibtelecom on 20052200 or Xcel Media Ltd on 20041415.