Mar 28 - Easter Navy Visits for Gibraltar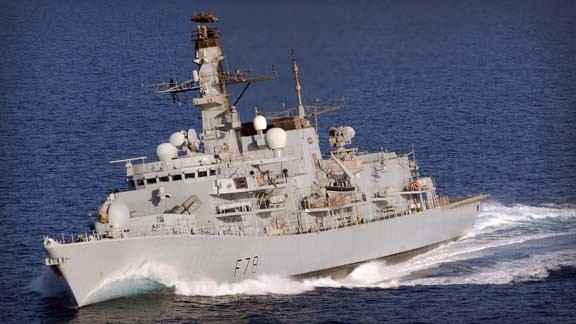 The Royal Navy's only ocean survey vessel, the HMS Scott will be stopping in at Gibraltar yesterday afternoon, in order to carry out a boat transfer. HMS Scott has been specially designed to carry the modern High Resolution Multi Beam Sonar System.
 The swathe echo sounder is capable of collecting depth information over a strip of the seabed several kilometres wide and gives her the capability of surveying 150km2 of ocean floor every hour. On arrival and exit HMS Scott will conduct a maritime security patrol.
Also stopping in at Gibraltar will be the HMS Kent, in order to top up on supplies, before continuing on her journey toward the Middle East where she is set to conduct operations as part of the Royal Navy's long standing commitment to the region.
HMS Kent is one of the newest Type 23 frigates within the Royal Navy arsenal. Built by BAE Systems' Scotstoun Shipyard on the Clyde, she was launched on 27 May 1998 by Princess Alexandra of Kent.
This deployment is Kent's first since an extensive refit in 2011. Upgrades included a new sonar and medium-range gun, which maintains her cutting-edge technology and flexibility to conduct a multitude of tasks such as anti-submarine, counter piracy, peacekeeping or humanitarian missions.