Apr 02 - Laguna Youth Club Easter Fun Day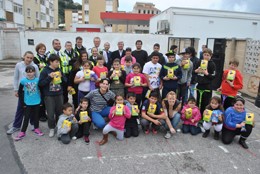 The Laguna Youth Club's Easter Fun Day and Community Event, with the support of the Laguna Tenants Group and the Royal Gibraltar Police, took place on Saturday 23 March.
The idea for this event came about over a month ago and, after a lot of planning and effort,  the youth club, in conjunction with the Tenant's Association and RGP, were able to deliver what was unquestionably an enjoyable day for all.
Although the weather took a turn for the worse, about 150 people attended the fun-packed and music-filled day, which boasted a bouchy castle, cake stall, and a BBQ, as well as Easter-related quizzes and the customary Easter egg hunt. Several youngsters also walked away from the event with free Easter eggs, much to their delight.
After discussions with the Ministry of Equality and Social Services, a fundamental aim of the Fun Day was to offer an opportunity for young and old to meet, chat and enjoy themselves together and do more for each other. Some youths happily assisted with the packing of ten hampers, which were then delivered to some of the older members of the local community.