Apr 03 - AzAmazing Event Proves Success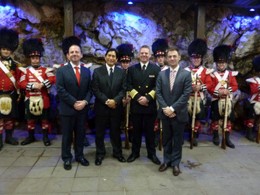 This weekend a number of Azamara Quest passengers were treated to an evening of spectacular Gibraltar traditions, including a performance by the Band of the Royal Gibraltar Regiment at St. Michael's Cave. The event included drinks and local canapés and a brief appearance by the Re-enactment Society who served to show off Gibraltar's military history and heritage.
The evening was jointly hosted by the Gibraltar Tourist Board, M H Bland and Azamara Club Cruises and concluded with a fireworks display provided by Azamara Club Cruises, before the ship departed from the Port.
Present at the event was Tourism Minister Neil Costa, along with Culture Minister Steven Linares and a number of representatives of MH Bland, Azamara Club Cruises and a number of local dignitaries.
Tourism Minister Neil Costa noted that the event proved a great example of how the Gibraltar Tourist Board co-operates with its industry partners, in order to deliver effective marketing activities. He added that the evening will undoubtedly have impressed Azamara's passengers and will encourage them and the cruise company to visit Gibraltar again.