Apr 05 - Chief Inspector Ullger Graduates from FBI National Academy Law Enforcement Course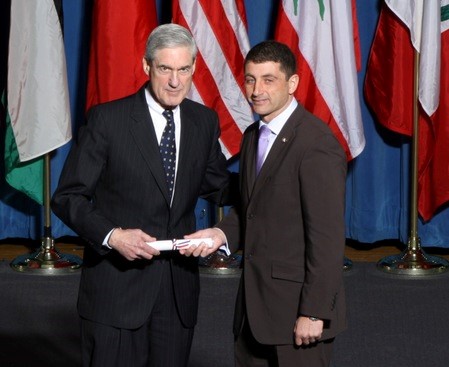 Detective Chief Inspector Richard Ullger of the RGP graduated from his course at the FBI National Academy in Quantico, Virginia USA. The Academy is a professional course of study for U.S. and international law enforcement leaders that serves to improve the administration of justice in police departments and agencies and to raise law enforcement standards, knowledge, and cooperation worldwide.
The course touched upon a number of areas of study including, enlightened leadership, contemporary issues in law enforcement, conflict resolution, ethical dilemmas and fitness in law enforcement. The officers involved participated in a wide range of leadership and specialised training, and they share ideas, techniques, and experiences with each other, creating lifelong partnerships that span US state and international lines.
Following graduation, each officer has the opportunity to join the FBI National Academy Associates, a dynamic organisation of more than 15,000 law enforcement professionals who actively work to continue developing higher levels of competency, cooperation, and integrity across the law enforcement community.
During his time at the Academy, Chief Inspector Ullger was selected by his peers to represent his section. He insisted that it was an honour and a great experience to have been selected to represent a large group of the finest police officers in the world.
Director of the FBI, Robert Fuller III personally congratulated Chief Inspector Ullger on his achievement, as he awarded the officers their certificates at the Graduation Ceremony.
The Commissioner of Police Mr. Yome commented, 'I am delighted at the achievement of DCI Ullger in successfully completing this course, as with other Senior Officers from the RGP who have attended similar courses a high standard has been achieved which is very heartening for me and for Gibraltar in general.'