Apr 08 - GHA's Environment Friendly Initiative is Internationally Recognised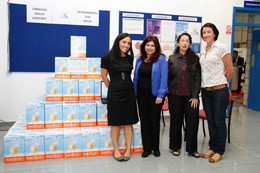 The Gibraltar Health Authority is featured in the latest edition of The Voice of American Society of Cytotechnology. The article, entitled, ' Moving Towards a Green, Lean, Healthcare System' is written by GHA Quality Manager and Deputy Pathology Services Manager, Audrey Smith.
The article describes many of the initiatives taken by the Pathology Department, including the implementation of a paperless sample requesting and reporting system. Dr. Alex Menez, Pathology Services Manager, chairs the GHA's Environmental Task Group, composed of members from across the GHA, which works to promote and implement environmental initiatives in the GHA. These include duplex printing, end of day default switch off of IT systems in designated areas, ink cartridge recycling and reducing energy consumption among others.
The GHA's donations of redundant equipment to Croissant Rouge Marocain and its support of The Vine Trust are also fully described in the article which concludes that, 'Going green is not a matter of being 'en vogue' or trendy'. Instead it means investing in a new model for the delivery of healthcare based on synergy sustained between the community and the environment.'
Commenting on the article, Health Minister Dr. Cortes noted, 'with my responsibilities for both Health and for the Environment, I am delighted to see that the GHA's eco-friendly initiatives are receiving international recognition'.