May 02 - Rotary Awards for Charity Work and Dedication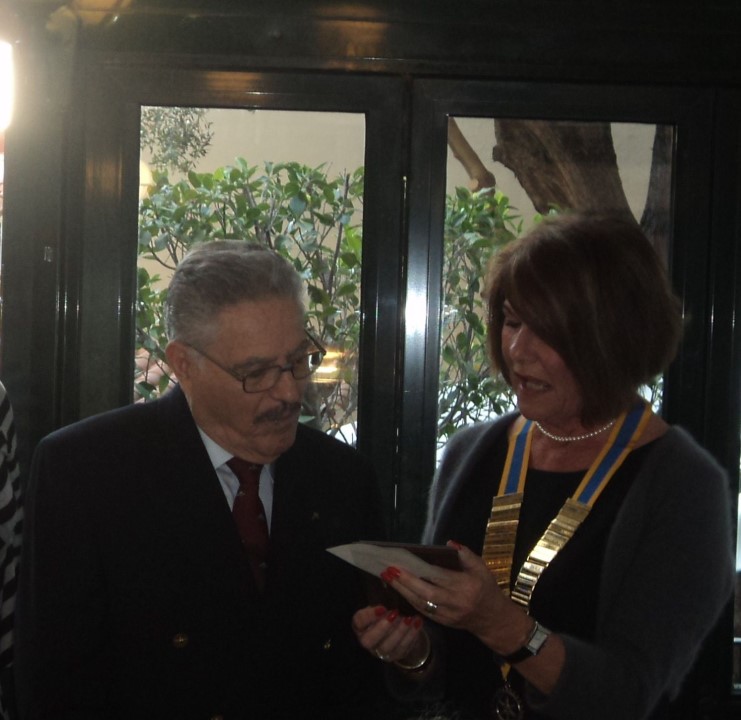 The Gibraltar Rotary Club's annual Vocation Award Presentation and Speaker's Party was held recently, at the Royal Calpe. The awards are offered by the Rotarians to give recognisance to members of the community that are 'worthy of special attention'. Three awards were presented to 'a young person', 'a civil or public servant' and 'an Elder'.
President of the Club, Jennifer Stentiford hosted the event. She presented the Youth Award to Ben Donohue who was nominated for his selfless dedication to raising money for the Jamie Inglis appeal. 8-year-old Ben carried out a marathon swim at Nuffield Pool last summer, in order to raise £10,000 in aid of 3 year old Jamie Inglis, who suffered from Nueroblastoma. Ben made the decision to raise the funds without even meeting Jamie.
The second award was presented to Social Services Civil Servant, Marie Carmen Santos who was transferred to the Agency on promotion to Executive Officer. During her time at the Agency, Marie has installed an I.T system for salaries, tax deduction and calculation of pensions. Marie also created a personnel section ensuring all staff details, leave records contracts etc.
The final Joe Gaggero Honoured Elder Award was presented to Mr. John Stephen Barea who has been described as a strong-minded caring individual, who always puts others before himself. The award is presented, every year, to an elderly member of the community ' who continues to offer help and support to others within the community, mainly through voluntary work'.
Mr. Berea is a strong minded, caring individual who ran a marathon at the age of 60, in order to raise funds for the Gibraltar Society for the Handicapped. On another occasion Mr. Barea and his team ran 1,000 miles from Angouleme in France, to Gibraltar and raised £10,000 for the Diane Aspinal Fund. At aged 62, Mr. Barea ran the London Marathon in order to raise £3444.74 for children of the Great Ormond Street Hospital in London. He was the first Gibraltarian to participate in the London Marathon.
The Rotary Club also made a number of donations to Women in Need, The George Pusey Memorial Fund and Jinson Lima who participated in the Maroc Challenge.