May 03 - British Forces Gibraltar Civil Servants Awarded Imperial Service Medals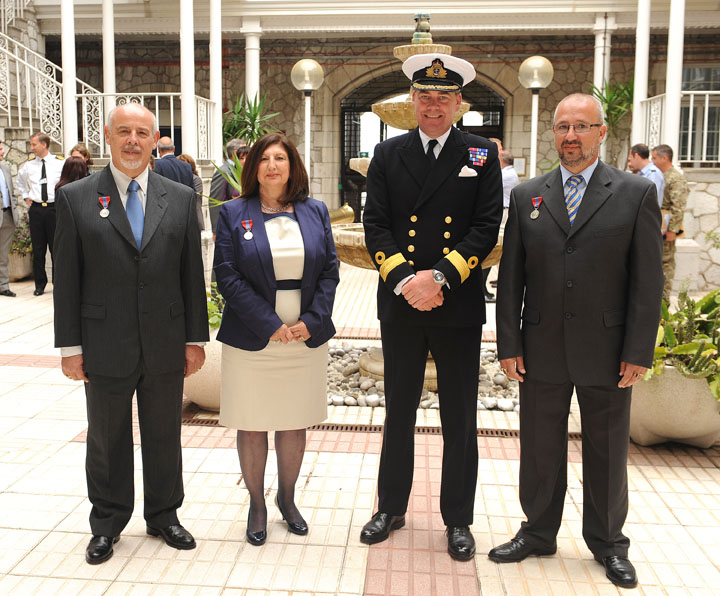 Three civil service workers from British Forces Gibraltar were presented with an Imperial Service Medal at the Tower in the Naval Base today.
Mr Humberto Aguilera, Mrs Concepcion Pizarro and Mr Hedley Trico were presented their medals by Commander British Forces Commodore John Clink OBE. The medals are awarded to individuals leaving the service that have given over 25 year's meritorious service.
Mr Aguilera joined the MOD in August 1967 as a Special Grade Electrical Fitter apprentice. Throughout his service Mr Aguilera carried out electrical work on weapons and navigation radars and dealt with work to electronic equipment onboard visiting warships.  He said: "Working for the MOD has been a privilege and I didn't think when I joined that I would be getting one of these medals, but I have enjoyed my job for over 40 years."
Mrs Concepcion Pizarro joined the MOD in May 1972 as what was then known as a 'Skilled Woman Worker' in the Radio Section. Mrs Pizarro's various jobs within the MOD ranged from general administration through to library work and later on in housing and Health and Safety.  "One of my favourite jobs was as the Accommodation Inventory Clerk, I got to meet so many people and help those new to Gibraltar, I feel very proud of what I have achieved." She said.
Mr Hedley Trico joined the MOD in September 1976 as an electrical fitter apprentice. His worked ranged from battery shop tasks to electrical installations on RFA vessels, procurement of electrical materials and operating the control room in the Generating Station. Throughout his years of service the work done in Gibraltar to the warships during the Falklands war as something that especially impressed him. On receiving his medal he said: "It's good to be recognised and I am glad to accept this medal as something I have earned for my grandchildren."
CBF congratulated them all, thanking them for the unique and valuable contribution they have made to the important task performed by the Armed Forces.