May 03 - New Bandmaster for the Gibraltar Regiment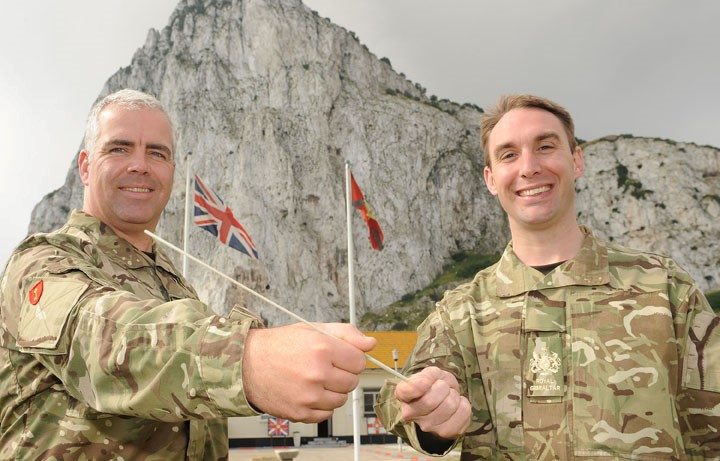 WO1 (BM) Craig Philbin officially passed the Baton to incoming Regimental Bandmaster WO1 (BM) Oliver Jeans as he prepares to leave the Army following a career spanning 25 years.
WO1 Jeans was previously the Bandmaster of The Band of The Parachute Regiment serving in Colchester. He recently moved to Gibraltar with his wife Julie and their two children Louisa (7) and Harrison (5). His first impression of Gibraltar is an impressive sense of history that he finds fascinating. He said: "I'm really looking forward to learning the traditions and customs so that I can choose sympathetic music to suit and adopt the ethos of the Regiment."
WO1 Jeans plays the flute, saxophone and piano himself and when asked what the main difference between The Band of The Parachute Regiment and The Royal Gibraltar Band he said: "The most obvious difference is that the RG Band are TA whereas The Band of the Parachute Regiment are all Regular soldiers. One other noticeable difference is that the RG have a Corps of Drums and Pipes which is a real asset for me."
WO1 Philbin has been a popular Bandmaster in Gibraltar and his final tour of duty was his second tour as Bandmaster for the Regiment. He joined the Army in 1987 at the age of 16, he originally wanted to join the Royal Marines but his parents would not sign the consent form for him, they would however sign a consent form for him to join the Army as a musician.
Looking back he has no regrets and said: "The highlight of my career was being introduced to Her Majesty the Queen following a performance I gave with the Royal Philharmonic Orchestra in 2005."
He admitted he will miss the camaraderie of service life and as the Baton passed over he thanked the people that have meant so much to him throughout his career: "I would firstly like to thank the RG Band and Corps of Drums of whom it has been an honour to serve with twice in my career. I would like to also thank my family for their support throughout; I could not have done it without them. Finally I would like to thank the people of Gibraltar for making me so welcome here, Gibraltar is a place I can put my hand on my heart and say I am proud to be British."