June 20 - Dr Giraldi Inquiry Hearing: Chairman Laments "Intemperate" Social Media Statements By Joanna Hernandez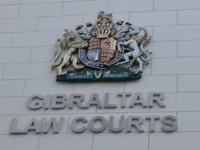 This morning, at the Coroner's Court, Sir Jonathan Parker QC opened the first preliminary hearing of the Dr Giraldi Home inquiry of which he is Chairman. The hour-long session covered procedural aspects of the inquiry focussing on case management and the timetabling of the main events leading up to the main hearing which is scheduled for the end of September. The inquiry will include the hearing of oral evidence during open public sessions.
The Chairman, who is a judge in the Gibraltar Court of Appeal, opened the hearing by introducing the leading counsel acting for the inquiry. Gillian Guzman QC is representing the Care Agnecy which now runs the Dr Giraldi Home and Ian Watts, standing in for Chris Finch, was representing Joanna Hernandez. Triay, Stagnetto and Neish will be acting as solicitors for the inquiry and will represent the various workers of the Care Agency.
Aims
Sir Jonathan Parker said that the aim of the inquiry was to report to the Government any facts discovered relating to various allegations of mismanagement and abuse at the home. These allegations were brought to light in 2006 during an industrial tribunal for the unfair dismissal of Joanna Hernandez who was a manager at the home.
He was keen to stress that the inquiry was not a criminal trial – his task was to approach the matter with, he said, "an open mind" and report any findings. As such, there would be no case or charges to answer and there would be no cross-examination of witnesses. He also clarified that it was not part of his remit to offer any recommendations once the inquiry was concluded.
Hernandez Social Media Comments
Mrs Hernandez, the former manager who had pressed authorities for a full inquiry into the allegations, was criticised by the Chairman for having posted on social media what he termed "intemperate and critical statements" which, he said, had suggested that the "independence and integrity" of the inquiry had been compromised. The Chairman said this was a "very unfortunate development."
Visit To Home
The Chairman also announced that he would be paying a visit to the Dr Giraldi Home to familiarise himself with the layout of the building in order to assist him in understanding the various witness statements. He added that all legal representatives would also be invited to attend.
Documents
Speaking about the sheer volume of documentary evidence processed by the legal team steering the inquiry, Keith Azzopardi QC said that this amounted to some 80 boxes containing some 35,000 pages all of which were being scanned and uploaded to an electronic platform. Mr Azzopardi repeated the assurance earlier made by the Chairman that the inquiry would strive to keep costs down to a minimum.
The next hearing is set to take place on 23rd of July.