Jul 09 - Tobacco Smuggling Documentary On Spanish TV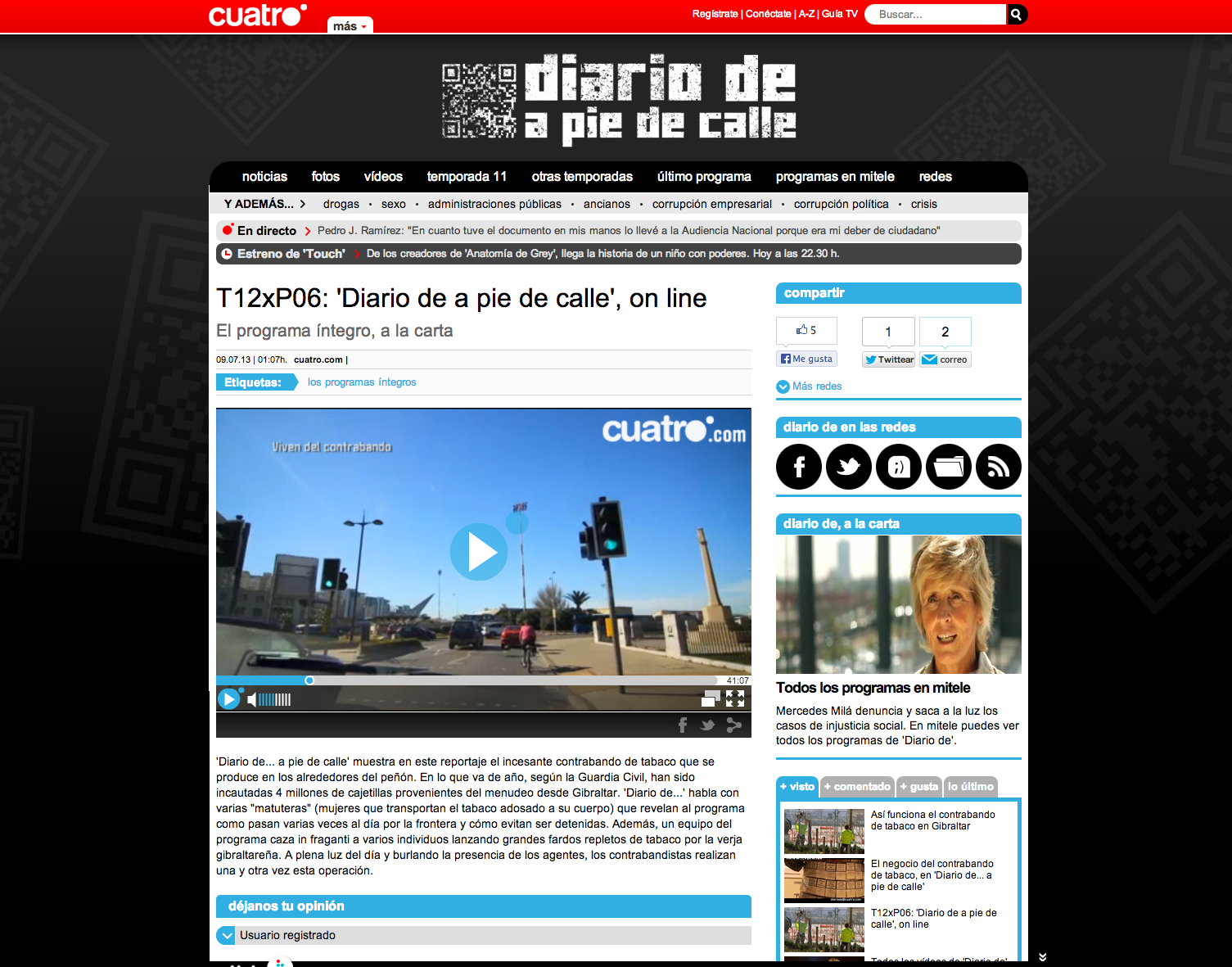 The Spanish broadcaster Cuatro last night showed a documentary on the tobacco smuggling trade between Gibraltar and La Linea. The controversial 'Diario de... a pie de calle' featured footage of smuggling gangs throwing boxes of cigarettes over the frontier fence into Spain. There were also images of people strapping numerous packets of cigarettes to their waist under their clothes before making the risky journey through the Spanish customs control post.
The documentary follows the "matuteras" (Spanish women who smuggle as a way of life) during an average day and follows the illegal cigarettes to their destination in one of many safe houses in La Linea which act as unofficial tobacconists threatening the livelihood of licensed vendors across the city. In one particular scene, the reporters pay an undercover visit to a flat used as a distribution centre for smuggled cigarettes and buy a packet for 1 Euro less than it would cost in a kiosk.
The documentary refers to Gibraltar as a "fiscal paradise" and highlights that smuggling activity has seen a huge increase since the economic situation deteriorated during recent years in the Campo de Gibraltar area. The reporters explain that when the smugglers are caught by the Guardia Civil, their bicycles are confiscated and can only be returned on payment of a 1,000 Euro fine. According to the documentary, some 4 million packets of cigarettes have been seized by the Guardia Civil so far this year.
An undercover team also visits a local tobacco vendor who has a small changing room (really a wardrobe) in his shop used by smugglers to stash the packets under their clothes. It offers a raw insight into the underworld that manages the illegal trade which has become the sole source of income for many across the border.
This link leads to the Cuatro website where the documentary can be viewed in full: http://lui.gi/O8gkQ