Sep 03 - Regiment Selection Weekend Success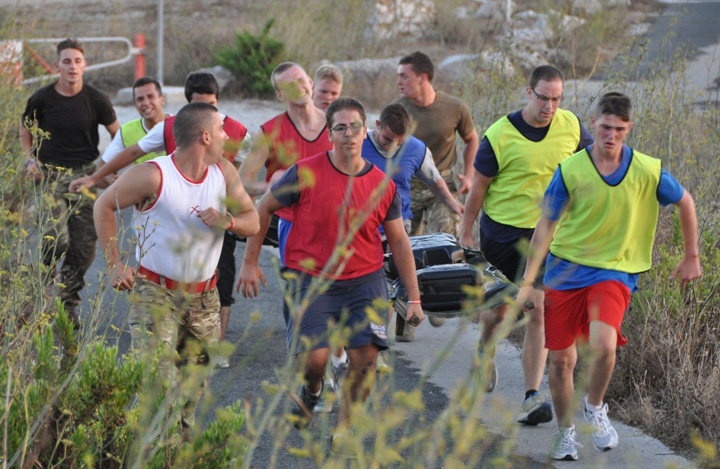 Twenty-two young men attended the Royal Gibraltar Regiment's selection course last weekend. The hopeful candidates were tested on their physical fitness and teamwork. They also received presentations on what the next steps would be for them in training.
Seventeen of the 22 candidates on the selection weekend will now go on to complete a three week pre-training course in Gibraltar in preparation for the six month Combat Infantryman's course. Five other candidates will join the B Company for the reserves Trained Soldier Course, conducted during training nights and weekends over several months.
The course officer, Colour Sergeant Leigh Thorne was impressed by the enthusiasm of the young men who attended, 'We usually get a very mixed bunch of lads and you would expect a few to leave on the first day when they realize that they had the wrong idea about soldiering. I'm happy to say that the potential recruits we had this weekend all seemed really keen, so I've got high hopes for them.'
Most of the candidates had recently left school. Matthew Escarcena (17) said, 'Having just left school I want to invest in an exciting career that will give me some discipline, challenge and test me to my limits, offer me plenty of travel opportunities and make good friends for life '
The weekend served as a selection test but also gave potential recruits an insight into the career they were about to begin. Jack Frangimore (22) said, 'The stretcher race was the hardest thing I have ever done and we all struggled, but it was an extremely good feeling crossing the finish line with the rest of my team.  I know that in the Army I will be doing things harder than this, but it has shown me that if I put my mind to it and give it my all, I can achieve everything that will be thrown my way'.
The Regiment's next selection weekend is due to be run in 08-10 November. For more information contact the Recruiting Office on 20040032, mobile 58009727 or visit www.royalgibraltarregiment.gi