Sep 04 - ERG Publish Guide to Spanish Law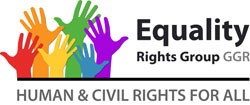 Human and Civil Rights organisation Equality Rights Group has announced a booklet Guide it has published entitled 'Your Rights – Spanish Law' which it will be making available and distributing free of charge to all as from National Day. 'We are calling on as many individuals, associations and groups in Gibraltar as possible to come forward as volunteers for participation together in this community effort to ensure as many people as possible receive this handy and informative booklet. Those interested can contact us via This email address is being protected from spambots. You need JavaScript enabled to view it.. On National Day itself, organisers will be wearing a distinctive  red and white 'Your Rights - Spanish Law' t-shirt for identification purposes.
'The Guide,' the statement continues, 'is above all a practical, easy-to-read outline of key areas of Spanish law. It is a professional and factual booklet based on expert legal opinion commissioned by the group. It aims to familiarise people with selected areas of law such as people's rights regarding police powers of stop and search, arrest, the denuncia procedures, requirements for identification of self and police officers, vehicle and traffic-related requirements and offences, and how to deal with fines as well as 'Do's and Don'ts' in how to handle any situation that may arise, amongst others. It also provides a 'Helpful Info' section with useful contact information. For those interested in a more in-depth legal analysis, a more comprehensive version of the Guide will be available for free downloading and printing from our website.'
'The booklet is not only something that ought to be read but also kept – it has been designed in a format that will be easy to hold and keep inside your car or in your bag or pocket.
'As an organisation working for people's rights we firmly believe that information is key to all of us. This booklet, therefore, is aimed at equipping people with the facts they need, whilst avoiding any kind of political rhetoric.
'We thank the Government of Gibraltar for their support in making this publication a reality, as well as Sandra Mejias of Attias & Levy for her expert legal opinion and the many people whose suggestions and requests have led to the formulation of this Guide,' the statement ended.