Sep 12 - 22 Ct Gold Queen Elizabeth Coins Produced to Commemorate Queen's Coronation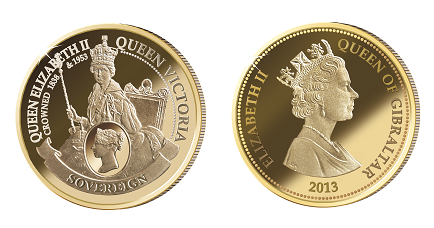 The Government has today announced the production of three extremely limited edition gold coins commemorating the 60th Anniversary of Queen Elizabeth's coronation.
The coins are being produced by Tower Mint and depict a portrait of the queen in 1953, following her crowning. The reverse design will depict Queen Victoria, as modelled by William Wyon. The image was first used in the City Medal first struck 1837.
Available coins include, one Sovereign weighing 7.98 grams made of 22ct gold. Only 50 of these coins have been issued and they are priced at £595. A Two Sovereign coin wighing 15.94 grams is also on sale for £1250. Only 20 of these have been issued. A Five Sovereign coin weighing 39.94 grams will cost £2995, with only 10 having been produced.
The coins are sold in a capsule with a presentation box and its own certificate. To arrange a private viewing please contact the Gibraltar Philatelic Bureau Ltd on telephone 200 75662 or by email This email address is being protected from spambots. You need JavaScript enabled to view it..