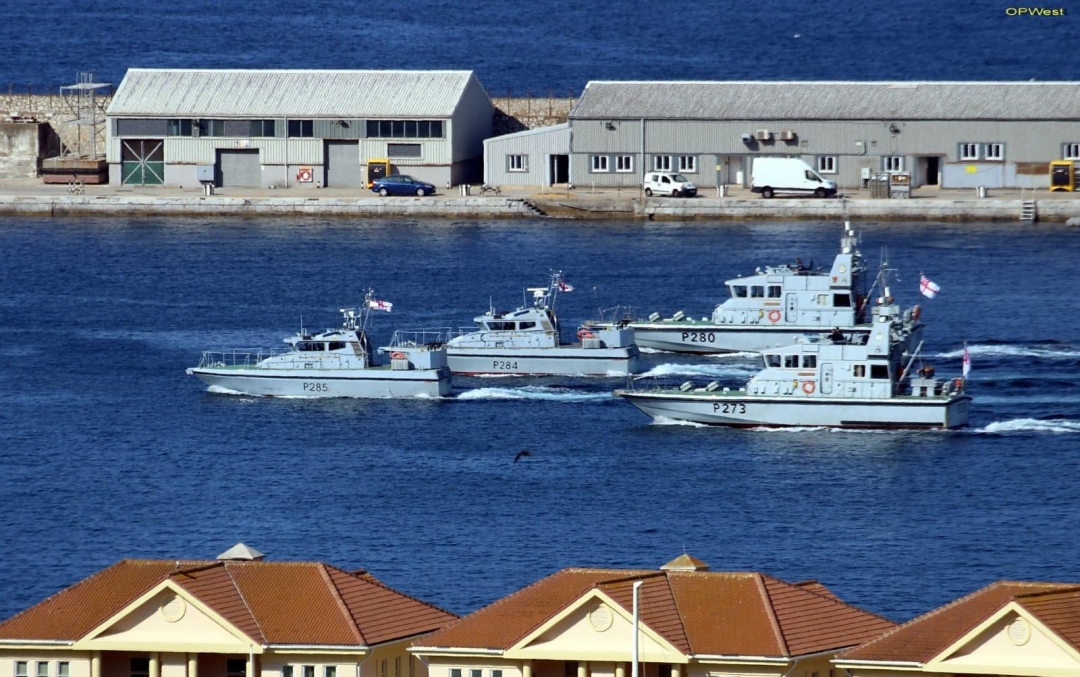 Military Movements Review: July
YGTV's article series continues - each month, David Sanchez will review military visits to the Rock. Drawing on his in-depth knowledge and photographic skills, the articles will provide readers with valuable background facts to the aircraft and vessels that pop into the Rock.
By David Sanchez
The rise in temperature in July was matched by an exponential rise in arrivals to RAF Gibraltar which broke all records for recent years. Sadly activity at sea was close to nonexistent so it really was a month of two halves.
On the water, our only MoD visitor was the charter Ro-Ro Hartland Point which arrived on the 16th of the month. 
All eyes were in the sky however with July seeing no less than 12 RAF transport moves to our base, all of one of which were A400s but what the month lacked in variety it more than made up for in sheer activity. For all intents and purposes we practically had an aircraft arriving every other day and the same airframe arriving on consecutive days too.
It is the agreed remit of these articles not to go into the whys and wherefores of visits and merely to report what arrived when, as is visible to the casual observer but the various MoD and RAF Gibraltar social media handles give further information on these most interesting visits for those who are interested.
The 'air show' of A400 visits began on the 3rd with A400 ZM416 kicking off proceedings. This was followed by twin visits by ZM404 on the 11th and 13th with ZM417 arriving the next day and ZM408  on the 15th 
The 16th saw a welcome change of vista with a rare visit by  BAe 146 ZE708 calling and giving photographers and enthusiasts one more chance to see these compact and attractive jets before they are withdrawn from service.
More dual visits were carried out by ZM404 again on the 17th and 18th. As the month drew to a close ZM417 made a visit on the 21st with ZM415 following up the day after. Finally yet more back to back visits by ZM407 on the 27th and 28th wrapped up a very hectic month.
In sum 11 visits by 6 different A400s is an unprecedented occurrence by modern standards at what is quite often a placid corner of defence infrastructure in terms of aviation. I must take this opportunity to offer my sincere congratulations to the RAF Gibraltar team for a fantastic job in handling so many moves close together. I can say that in all honesty they are firm friends.
July also saw the departure of the previous Commander British Forces, Commodore Tim Henry who handed over to his replacement Steve Dainton. I wish Commodore Henry all the very best and extend a warm Gibraltarian welcome to Commodore Dainton. This handover also saw a once in a lifetime event in the form of all four Royal Navy Gibraltar Squadron patrol boats, the Archer class vessels HMS Pursuer and Dasher together with our old friends Sabre and Scimitar engaged in a ceremonial departure for Commodore Henry. It is the first time in a decade that so many small patrol boats are seen at Gibraltar at once and if that is the swansong of the venerable Sabre and Scimitar duo it was a most fitting and picturesque scene indeed! 
HMS Pursuer is now a regular sight out and about in BGTW and she has also seen off her first incursion. Those fortunate enough like me to remember the previous Archer class vessels based here, Trumpeter and Ranger, get a wave of nostalgia when we see these bigger vessels out at sea.
Finally during the end of July the new Gibraltar Squadron patrol boat design was unveiled.  The 19 metre, 40 knot boats will be built by MST Workboats in Merseyside and will no doubt make up for their lack of size by their sheer speed and handling which is reported to be much better than anything we ever had here before. An initial sense of anticlimax was felt among some as they are not 'much bigger and much better armed' than Sabre and Scimitar as per previous press releases but these will be cutting edge, highly capable craft and we all look forward to welcoming them and finding out what they will be called; many a plea for HMS Gibraltar to be one of them has been made, a name not used since the Edgar class cruiser of 1892!
As summer rolls on and the heat becomes relentless, it is hoped that the visits stay as persistent as the recent levanter, especially at sea where the royal Navy is becoming much missed! Either way, be it in the sky and on the water, I will keep an eye out and do my best to inform you and promote our much loved Armed Forces when they visit our iconic Rock.