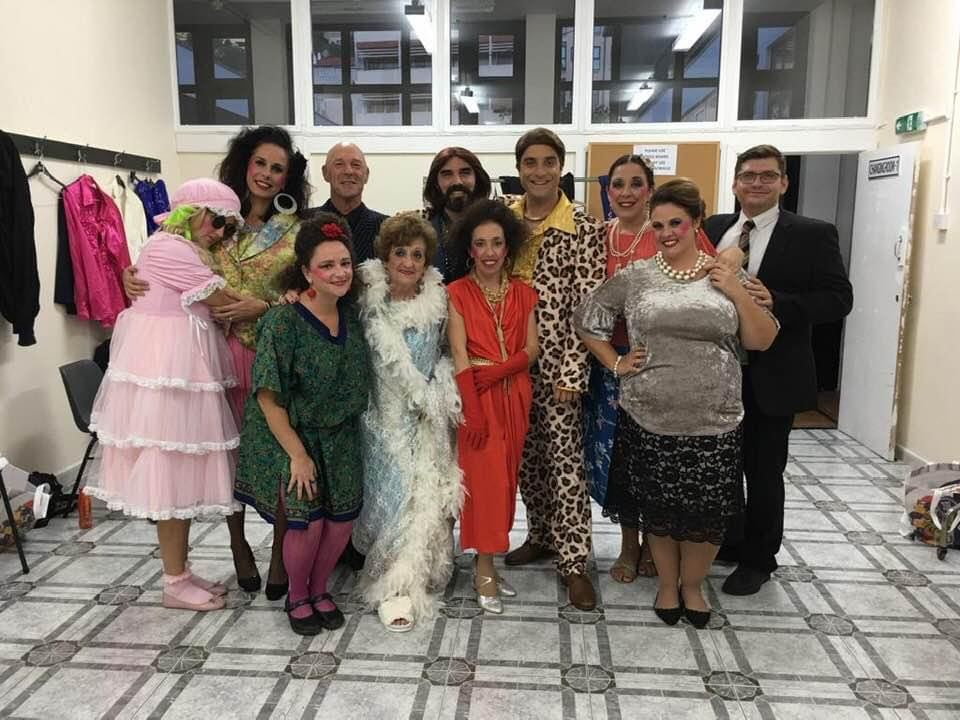 On Gibraltar Play-Writing
As Gibraltar Literature Week enters its third day of events, local playwright Julian Felice reflects on the Rock's long tradition of play-writing…
By Julian Felice
Gibraltar Literature Week kicked off on Monday and comprises of a varied programme of activities aimed at raising the profile of local writing and drawing attention to the work of Gibraltarian writers. A (hopefully temporary) alternative to the Gibraltar Literary Festival, the event is providing a valuable platform to a burgeoning local literature that only a few weeks ago found its existence having to be defended on social media and on the correspondence pages of our daily newspapers. With a pop-up bookshop – hurrah! – selling books by local writers, this is a big week for our literary figures as we promote our work in schools, in lectures and interviews, and online. As part of this, I have thought it appropriate to cast an eye on Gibraltarian play-writing and contemplate where we stand in this particular branch of writing.
It must be said that Gibraltar has a long tradition of play-writing. Figures such as Luis Bruzon and, of course, Elio Cruz set that early standard in the post-evacuation years. Cruz's plays are well known locally and need little introduction, and Alice Mascarenhas' One Man, Many Talents is as good as any an introduction to this work. Plays such as La Lola Se Va Pa Londres, Connie Con Cama Camera En El Comedor and LMNOP were immensely popular and helped Gibraltarians to reconcile their identity after World War II, using the stage as a powerful medium that asks difficult questions and mirrors familiar behaviours. These were the first Llanito comedies, the language and idiosyncrasies of Gibraltarians recreated beautifully in ways as poignant as they are humorous. Cruz's plays represented the theatre tradition of a whole generation and defined the work of many directors and performers that we still hold in high esteem. Sadly, I do not know much about Bruzon's work (and would only be too happy to learn more), but it is the work of these early pioneers that many of us have tried to build on in more recent times.
Original theatre writing seemed to dry up somewhat in later years, although there were a few occasional sightings, particularly in Drama Festivals. I remember, for example, Watch The Wall, My Darling by Marjorie Hoare, which won the Drama Festival in 1997. This play successfully mixed colonial characters with more local figures, against the backdrop of the tobacco smuggling activity. Sam Benady – better known to us for his novels – also flirted with play-writing with A Rose For Nicoletta, a light-hearted piece that combined his vast historical knowledge with a finesse for writing characters from a broad spectrum of backgrounds. I believe that this play was staged by Trafalgar Theatre Group in the early 2000s, by which time a new chapter had started in the evolution of the Llanito comedy. In the late 1990s, the partnership of Christian Santos and Richard Mor had started bringing us their concept of the Llanito show, with early efforts such as El Talego: Cell Block H and Fame: Pero Esto Que Es? This was established even further when Christian returned to the Rock and formed Santos Productions, the Llanito show going on to become a fixture permanently entrenched in our cultural calendar. Combining big musical numbers with larger-than-life but recognisable characters, these productions have always been superbly popular, practically always sold out. It is a shame that these plays can sometimes be unfairly derided, often as a result of a cultural snobbery that does any claims to artistic legitimacy more of a disservice than anything else. Apart from the fact that it is clear that many people enjoy these plays, Christian and Richard always demonstrate an acute eye for local observation, and their Llanito is far more fluid and natural than the contrived examples one regularly comes across. And I will die on the hill that the "Tú qué te echas en los huevos?"moment in El Ballroom is one of the funniest ever on the local stage.
But, of course, there is far more to Christian's work as a playwright than his Llanito shows and many Drama Festivals have played host to a far more sensitive and socially responsible side to his instincts as a writer. Strong was a very powerful exploration of the impact of domestic abuse on women, while I Am Me did not only sweep the boards at the 2018 Drama Festival but effectively kick-started a badly needed local movement of self-affirmation. The impact that Christian's writing has had on local theatre is undeniable and it has formed a major part of our drama for well over the past decade. This has been further supplemented by the work of writers such as Rebecca Faller (The Civil Garrison), Jackie Villa and Andrew Dark, the last two being particularly responsible for plays such as Llévame Donde Nací and The Winds of Change, where, again, difficult moments in Gibraltar's history have been dramatised to great success and popularity. The fact that these works are being performed on our stages is of huge importance. Plays are written to be performed, and the visceral nature of live performance gives any writing a dynamic quality that cannot be replicated on the page alone. I would always encourage local playwrights to stage their work as this is a key part of the writing process where one gets the opportunity to see the writing come alive. Indeed, I myself do not consider a play 'finished' (is a play ever finished?) until it has been performed and I have re-edited it subsequent to the performance. Plays are lively, organic entities and are in constant evolution.
And, of course, any such discussion should look at the work of younger generations. Louis Emmitt-Stern, for example, is a remarkable young playwright who has been studying play-writing at drama schools in the United Kingdom. His play All The Blue Areas represented his debut in Gibraltar, but he has also worked with some of the most important theatre companies that focus on new theatre writing. Louis has all the potential to succeed as a professional playwright, and Gibraltar should be more aware of his achievements abroad. The work of Hannah Mifsud (Flat 305) and Chloe Cortes Dellipiani (Wheels) has also graced our stages, showing a confidence in our younger writers that can only be admired. The Gibraltar Academy of Music and Performing Arts also recently ran a short course where students could learn more about play-writing, and these students will hopefully go on to represent yet another generation of Gibraltarians writing for the stage.
Yes, as always, there is still plenty more we can do. A scratch night showcase for emerging local playwrights, for example, would be a beneficial platform for these writers and, indeed, some plans have been contemplated for such an event. Perhaps more opportunities for staging and for self-publishing can be looked into, but, as Literature Week starts to roll, I think Gibraltar can rest easy in the knowledge that local play-writing is healthier than ever and very much forming part of that Gibraltarian literature that so undeniably exists.
Pics: Images from Christian Santos' plays