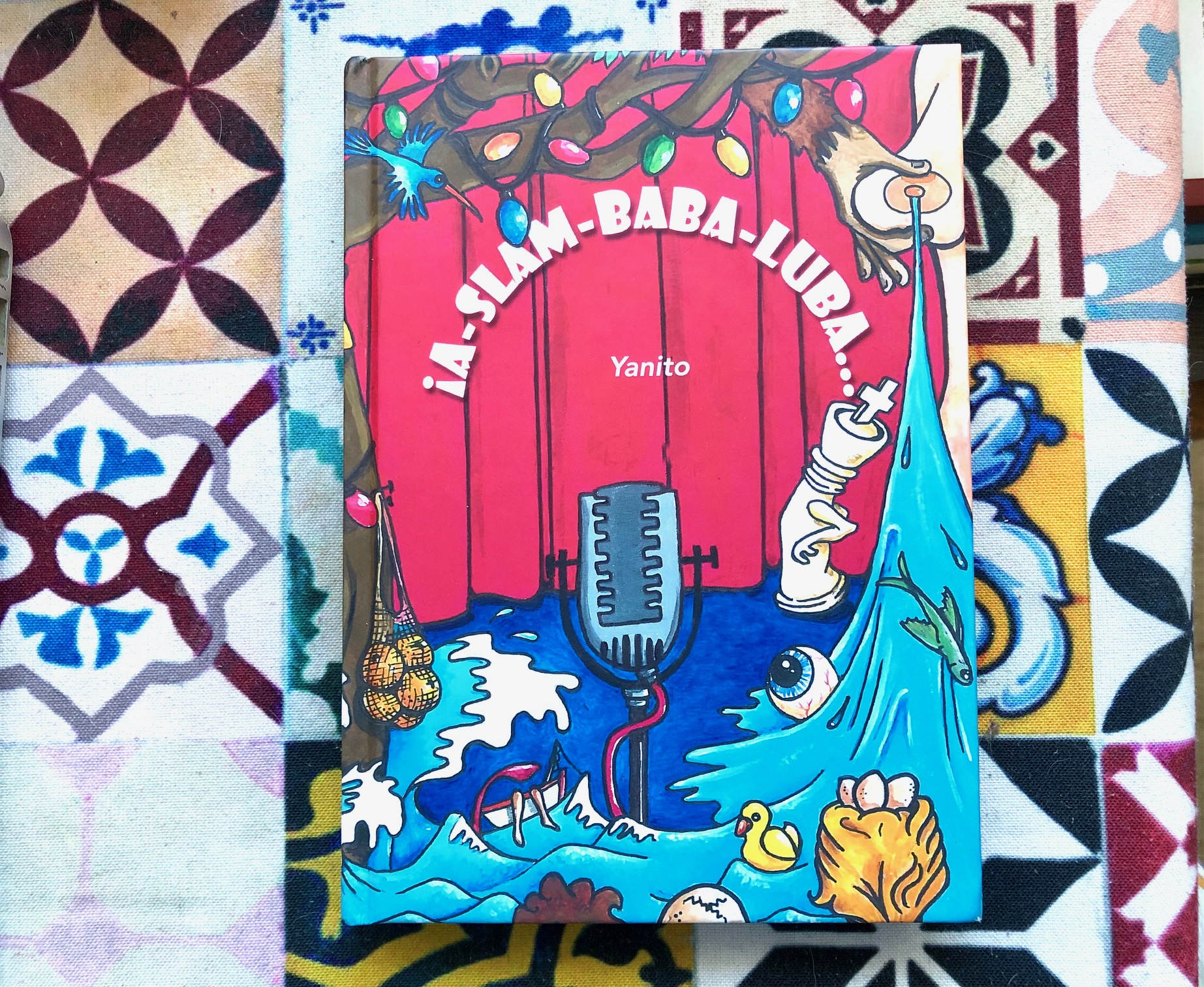 '¡A-slam-baba-luba…a-slam-bam-bú! - Powerful Slam Poetry Hits The Page
By Giordano Durante

After 12 years on the slam poetry circuit in Madrid and across Spain, Yanito - the stage and pen name of Jonathan Teuma - has released '¡A-slam-baba-luba…a-slam-bam-bú!', a punchy collection of poems.
Teuma's introduction sets the scene: these are poems written in the thick of a seemingly endless economic crisis which has to be faced with "amor, conflicto y mucho cachondeo."

The poems are assertively multilingual, bringing together Llanito, Andaluz, English and even Portuguese (often in the same line) in a way that will horrify local purists and prudes. Teuma's virtuoso way with language also extends to clever wordplay and a knack for rapid shifts of register to suit the  logic of a poem.

One of the first poems - 'Me presento' - kicks off confidently:

"Soy un viento de levante.

Un emocionante cortocircuito,

la menta en tu mojito y el chill del rebujito

y vengo de un pequeño pueblo,"

It takes guts to announce oneself so boldly - there's no self-doubt here and the effect is thrilling.

This opening poem, drawing on Yanito/Llanito, shows that our code-switching is not something limiting or insular but, instead, constitutes a multi-layered form of expression where an English and Spanish education, culture and literary history serve as rich sources for the poet to plunder.

For Teuma, this hybrid cultural inheritance transcends the Rock's conflicted political history:

"Lope y Shakepeare hacen los rounds,

compartiendo en mi cabeza

el mismo espacio y sin problemas

de visados, ni papeles, ni banderas,

¡ni de nah!"

Continuing this theme of "mestizaje", a rich thread which runs through the collection, Teuma later argues that the best place for one language to be is  "bañada en otra", a hymn to a linguistic intermingling which reflects trends across the globe, despite the depressing lurch towards monolingualism in Gibraltar.

Another poem, 'El vuelo del poeta', reflects, via soaring images, on the role of the poet and, to me, establishes a connection with the work of fellow Gibraltarian poet Gabriel Moreno.

As is usual in the slam or spoken word tradition, many poems are deeply political. There are works here that range across the landscape of Spanish politics and the cultural wastelands of la telebasura.

Among the most memorable pieces in this section stands 'Ellos no son ellos' - a fantastic, extended play on the '-ello' rhyme. Here, Teuma presents an inclusive notion of humanity which must be affirmed - an underlying equality  in a world wracked by war and division.

In another poem, the switching between the poles of a two party system (Spain in this case but the same could apply to the UK, the US, and even, of course, Gibraltar) is likened to the to and fro of a football match.

Teuma's political poems protest against the corrupting influence of money, the scandal of repossessed homes and economies built on mounting debt, setting up a contrast with a simple hope: "poder ser libres".

Although there's a strong focus on the Spanish political circus, the absurdities of a post-Brexit UK aren't ignored:

Teuma writes:

"Seems like Britain's cursed

by Britain First"

These are the opening lines of 'Britain Cursed', a breathless tirade against how the far right has manipulated the national memory of the sacrifices of two world wars. The poem ends in an all-encompassing view of Britain as a mix of races, religions and cuisines - a true "mestizaje".

Teuma's political work is brave - nothing is beyond debate or immune to the sharp barbs of his verses. In one poem, even God is in the dock as the poet requests his resignation after dividing mankind into different and antagonistic religious groups. The book also contains (to my knowledge) the first artistic response to the lamentable closure of the local Instituto Cervantes.

Bolstering the unconventional air of the collection are specifically commissioned illustrations by Keiron Peralta which are highly original and subversive in their own right, like a macaque on a tank sporting a dangly cock.

Moving beyond the political element, it's also good to see Teuma embrace more traditional forms like the heartfelt elegy to Lorca 'Verde amigo más que verde'. Once again, I see links with Moreno here, for whom the murdered granadino remains a towering presence. I'm keen to hear more from Teuma in this vein, as a contrast to the more immediate, visceral pleasures provided by his slam pieces.

Indeed, this collection mixes rap, poetry and slam so seamlessly that talk of genres becomes meaningless and little is gained from placing Teuma's collection in one category or another when it serves so winningly as an antidote to what he calls "recitales muertos / y versos flácidos" - there's certainly no threat of limp lines here!

One of the last sections is titled "Amor y Amistad" which sees the poet slowing down after the raucous slam of previous pages.

Although more heartfelt and more conventional, in these poems Teuma's wordplay is still in evidence. For example, in "Lamo", a sensual poem focused on the lover's body, the lick becomes an expression of love: "Lamo / la amo."

In 'Susana', too, there's a Nabokov-like delight taken in the sounds of the beloved's name:

"Su, que sana.

Su, que sabe.

Su que siempre siento sobre

sólido-simple sentido y sabor"

Among the many questions and reflections this collection prompted, I'll end with two:  first, how does Teuma negotiate the transition from the spoken word to a published collection? Second: how does Llanito serve as a medium for literary expression?

So, how does the intoxicating stage fare on the sober, white page? In the UK, Kae Tempest has managed a similar transition from the spoken word to published collections, with substantial critical and commercial success. In that case, and here too, the secret is for the reader not to linger over the poems but to power through them respecting the pace the author has established and the best way to do this is to hear these poems in Teuma's voice. Thankfully, a QR code will take readers to a selection of his performances on YouTube and, once you internalise his cadences, you can see how these poems are meant to flow with all the candour and mischief of a good raconteur.

Turning to the second, linguistic question, it has seemed to some that Llanito is too raw and too much a language of the street to work comfortably in loftier literary contexts. Teuma's book answers these worries by mining Llanito phrases and using his acute ear for street rhymes and rhythms to create an authentic, grounded poetic idiom. It never sounds forced or artificial. In a sense he exploits precisely those aspects which were supposed to prevent Llanito artistic expression - it's an approach that eschews neatness and embraces a multivocal messiness that is truer to life than the bloodless abstractions of more formal attempts.

Together with Humbert Hernandez's 'Mis Patios Perdidos' and M. G. Sanchez's bilingual edition of 'Marlboro Man', I believe we are seeing a confident flourishing of a brand of local literature that celebrates our linguistic roots and earthier forms of expression without colonial hang-ups about purity or correctness. That these three works have appeared in just the last 12 months is to be celebrated by all who take local literature seriously.

This aspect of the book's power reminded me of some points approvingly quoted by the Scottish nationalist poet Hugh MacDiarmid. A nation's vernacular "stimulates the wits and the descriptive and reflective powers[…]pricking the bladders of pride and pretension" and embracing a "fearless realism and freedom from didacticism."  

This gets close to what Teuma achieves in this collection; what Yanito does with Llanito is nothing less than a vindication of our vernacular.

This book bursts with thumping, confident pieces - it is a deeply life-affirming book; a potent blend of cri de cœur, rant, and garrulous tirade.  I urge anyone curious about contemporary Gibraltarian writing to acquire a copy.

The book will be launched at an event open to the public on Saturday 28th January at 1:30pm at the Calpe Rowing Club.