June 20 - BabySTEPPs Are STEPPing Out Into Main Street On Saturday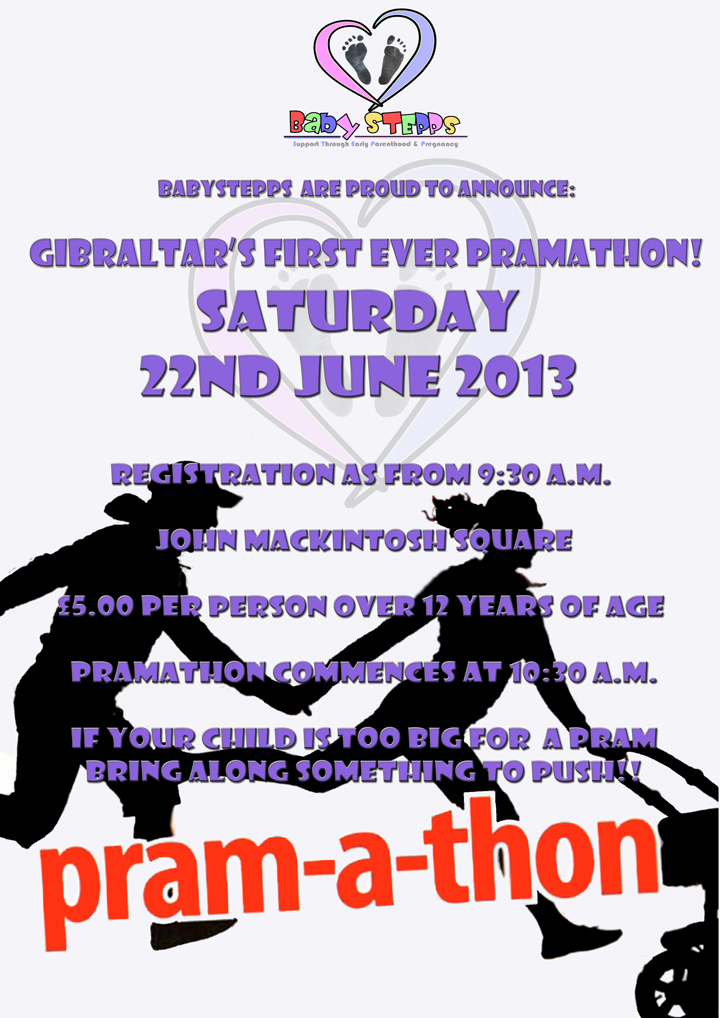 BabySTEPPs will be hosting their biggest event to date: Gibraltar's first ever Pramathon. Vice-chairperson Louise says "a Pramathon is simply a charity walk WITH prams so we encourage all the family to come along with their buggies and take part in the event. This is a family event, and contrary to other charity walks, we invite all participants young and old to come along and "push" something along the way. Whether it's a pram, a wheelchair, a toy car, a toy buggy or those tug-a-long toys, bring them with you on Saturday. Let's make this a fun and memorable event".
The walk will start at John Mackintosh Square at 10:30am but those who have not pre-registered at "All Wrapped Up" in Irish Town prior to the event can do so as from 9:30am on Saturday.
"We want to make this a yearly thing by making it a memorable event. We'll have a jumping castle at the Piazza, music courtesy of Sound Reinforcement Systems and lots of freebies, balloons and charity merchandise on offer. The Gibraltar Mini Club will be leading the walk up Main Street, past The Convent, turning right into Ragged Staff Road. Participants will be led into Queensway and then turn right into Reclammation Road, through to Orange Bastion and back into Main Street, beside the ICC. The walk will end back at John Mackintosh Square and it should not take more than an hour of your time."
BabySTEPPs counts on the help from volunteers from the 3rd Europa Scout Group, organised by Clayton Busto, who will be located at different points of the route should assistance be required. AquaGib will also be arranging for two water bowsers to be made available on Saturday morning for participants to use should they feel thirsty during the race. These will be situated outside the Leisure Centre and at the Piazza.
With confirmed attendance from Ministers and local celebrities, BabySTEPPs hope to make this a successful event and use this publicity to raise awareness about what the charity stands for, their aims and objectives and more importantly, what they've accomplished over the past year.
"Come join us on Saturday!" said Louise. Registrations start at 9:30am and its £5 per participant over the age of 12 years. Let's make this a day to remember.