Sep 05 - Charity Trek to Raise Funds for Rainbow Ward and Great Ormond Street Hospital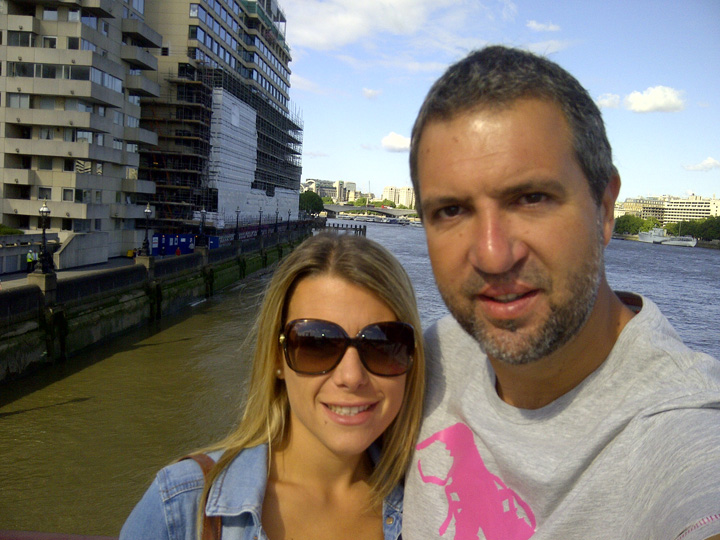 Lawyer and former Government Minister Fabian Vinet and his wife Genevieve, a school teacher, are raising money for the Rainbow Ward at Saint Bernard's Hospital and London's Great Ormond Street Hospital. On Saturday 14th September they will be taking part in the 'Thames Path Challenge', a 50km non-stop endurance, against-the-clock trek which they aim to complete in about twelve hours.
Described as a test of physical and mental strength, the Walk starts at 8am near Putney Bridge and covers public footpaths and other terrain through Richmond, Kew, Twickenham, Hampton and Kingston, finishing at Runnymede. The charitable venture has been made possible thanks to the direct assistance of Lombard Odier & Cie (Gibraltar) Limited. "We are so grateful to Lombard Odier and its Senior Management for having financed all the logistics surrounded the Walk," said Genevieve and Fabian. "Lombard Odier are in effect our Main Sponsors and their help really has been invaluable. It is thanks to their assistance that 100% of all other funds received will be donated to the charities."
Fabian Vinet explains that the recipients of the fundraising are very close to his and Genevieve's hearts: "I was born with a bilateral cleft lip and a cleft palate. At three months of age I had my first operation at Great Ormond Street Hospital. This was the first of many related operations, the last one taking place in my late teens. The treatment received at Great Ormond Street was always exemplary and I know that many other Gibraltarian children have similarly a lot to be grateful to for the care and attention given by doctors and staff at that London hospital. For a long time I wanted to fundraise as a way of expressing my appreciation and in a small way contributing towards the continued care given to so many young children. I say 'care' but really the work of Great Ormond Street is often nothing short of miraculous. Back in early 2003 I decided to undertake a week-long trek through the Namibia desert to raise funds for Great Ormond Street. Everything was in place but weeks before the event I stood for election to the then House of Assembly and regrettably I had to cancel the trek. Now, ten years later, coinciding with my fortieth birthday, is an opportune moment to take part in a challenge, albeit on a more modest scale since having young children means I'd rather not be away for many days."
Genevieve is keen to stress why the trek will equally benefit the Rainbow Ward at Saint Bernard's Hospital. "Our son James was born very prematurely in 2007," she explains, "at just 29 weeks gestation – that is to say, two and a half months prematurely. Because of the significant risks involved, he was born at Malaga's specialist Materno Infantil hospital. Against the odds, James not only survived but thrived and is now a very healthy five-year-old, although particularly during the first two years of his life he had to be hospitalised at Saint Bernard's children's ward on several occasions."
It is for this reason that Genevieve – who has also celebrated a landmark birthday this year, her thirtieth – decided to join Fabian, so that together the husband-and-wife team are raising funds to be shared equally between Great Ormond Street Hospital and the Rainbow Ward at Saint Bernard's Hospital.
Fabian and Genevieve appreciate that Gibraltar is well known for the widespread support given to charities. "We are conscious," they explain, "that individuals and companies receive many other similar requests and that not everyone is in a position to help. However, these two hospitals really do make a huge difference to the lives of young children and we believe that they are particularly deserving of our help. All donations are welcome, large or small, but we humbly and respectfully ask for people to please, please donate as much as possible. The 50km trek will be tough and we have been preparing for it for some time but we know it will be more than worth it, a challenge with a purpose, and we will remain eternally grateful to every single person or entity that can make a contribution. We are blessed to live in such a wonderful, generous society. Each and every penny collected will go to a good cause."
Those wishing to donate can make cheques out to 'FJ & G Vinet (Thames Path Walk)'. Please send them to 62 The Anchorage, Rosia Road, Gibraltar. Donations can also be made via a special NatWest account under the account number 48057665 (sort code 60-60-60). Fabian can be contacted on This email address is being protected from spambots. You need JavaScript enabled to view it.