Nov 25 - Movember Shave-Off This Saturday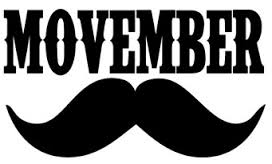 A big Movember shave-off is set to take place this Saturday. Before the end of the month-long campaign to raise awareness for prostate cancer, the Prostate Cancer Support Group would like to thank everyone who has contributed in any way to the success of their Movember Campaign.
The group says that those who have grown a moustache must be congratulated for taking up the challenge but now they have to take a decision. People will ask themselves: "Do I like how I look? Does my wife/partner approve of my new look?"
Whatever your decision, the group would like to thank you for your support and we hope that you all had a great time. Next year, the group would like to have every man in Gibraltar growing a moustache during November.
This year, His Worship the Mayor, Adolfo Canepa officially launched the Movember Campaign. The group would also like to thank him publicly for his support.
Now that the Campaign is ending, the honour of being the first in having his moustache shaved off in public, at Casemates will fall to the Chairman of the Prostate Cancer Support Group Gibraltar. This will take place this Saturday the 29th November.
The group would like to invite all those who have participated by growing a moustache to join them at Casemates at 11.00 am and contribute to this "GRAND FINALE" by shaving their moustaches.  Please bring your OWN after-shave!
The group's official barber, Mr. Joya, will start the shave-off at 11.00 am. In attendance will be the Harley bikers and the Calpe Band will also be entertaining throughout the morning interacting with Nathan Conroy and his troupe. The Re-Enactment Society will also be joining in the fun: they will fire their muskets to mark the end of the Movember Campaign.  They will also firing their cannon from Grand Battery.
All those groups or individuals who have been collecting funds can present them there.
We hope to see you ALL on Saturday!