Jun 04 - Ocean Village - Minister Linares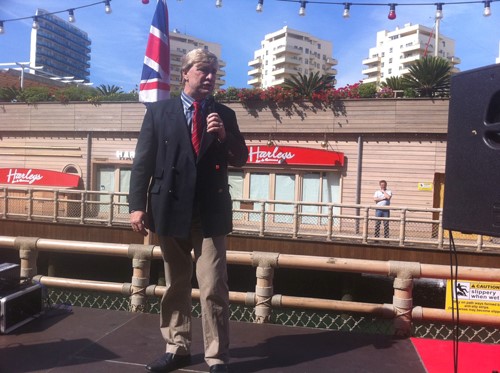 His Excellency Sir Adrian Johns, Governor of Gibraltar, Her Majesty's representative on the Rock, has just addressed the masses at Ocean Village wishing them a safe and enjoyable journey. Mentioning yesterday's very wet and overcast Thames Flotilla, the Governor was pleased to announce that all we had to worry about in the Gibraltar Flotilla would be sunshine.
He was followed by the Minister for Culture, Stephen Linares, who expressed his gratitude at the organisation of the day and congratulated Ros Astengo for planning such a fantastic event in only a month when the Thames Flotilla took two years to prepare for. Mr Linares thanked everyone present as he prepared to join the lead vessel and launch the Gibraltar Jubilee Flotilla.
YGTV will continue its regular updates throughout the day, so stay tuned!
YGTV's internet on the move, sponsored by CTS.