Feb 12 - Gibraltar Hosts First International Face & Body Painting Festival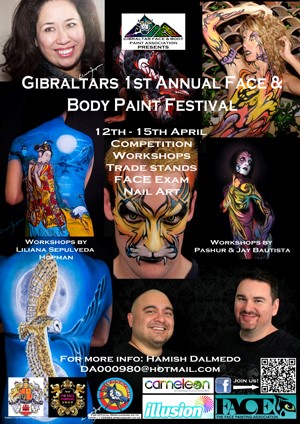 This April, Gibraltar will see the launch of its first Annual Face and Body Paint Festival. The event will run from 12th of April to 15th and will see a mass of competitions, workshops, trade stands, face exams and nail art exhibitions.
The idea of the promising event came to Hamish Dalmedo following a small meet up at a friend's house in Malaga where a group of face and body painters practiced a number of technique and designs on each other. The original idea saw the group meeting in Gibraltar for a day for a chance to mingle with local painters. The event gained more interest both locally and from Spain, leading to Hamish rethinking the concept.
Hamish claims that one of the main reasons he wanted to introduce this type of festival to Gibraltar was to advance on this fast growing new form of art and give locals a chance to work with some of the world's best artists. He noted that it posed as a great opportunity for locals to volunteer as models or even try face or body painting for themselves.
Hamish met with the Ministry for Culture who fully endorsed the initiative and stated that if it proved a success, it would be included into the Annual Spring Festival as from 2014.
The weekend competition will be divided into three categories, including; those wishing to do full body painting (Invitational), those wishing to do full body painting (Open) and those wishing to do smaller sections, e.g. face, back, arms, legs, etc.
The Festival will include a number of classes to be carried out by world-renowned painters John Davis, Jay Baustista & Pashur and Liliana Sepulveda Hopman.