Sep 02 - Gibraltar Music Festival Set List and Site Map Released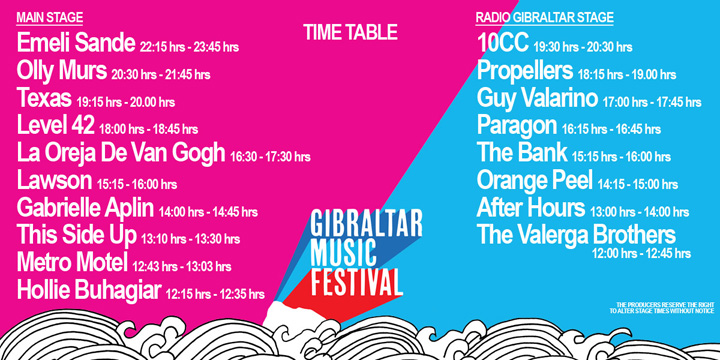 As preparations continue for this Saturday's Gibraltar Music Festival, organisers have released a site map for the event, detailing where both the main and Radio Gibraltar stage will be located. The map includes areas for food, drinks, the sale of merchandise and vouches as well as seated and chill out areas. Ocean Village's Dusk are even providing a cocktail and champagne lounge. This year, a wheelchair platform will also be available.
Organisers Word of Mouth has also published the set list for acts performing on both of the stages. The Main Stage will see local act Hollie Buhagiar take the stage first at midday. She will be followed by Metro Motel, This Side UP, Gabrielle Aplin, Lawson, La Oreja De Van Gogh, Level 42, Texas then Olly Murs and finally Emeli Sande.
The Radio Gibraltar Stage, located in the outside area of the Tercentenary Sports Hall will see The Valerga Brothers take the stage first with After Hours, Orange Peel, The Bank, Paragon, Guy Valarino, Propellers and 10cc following. Sets range from 25 minutes to an hour and a half, for the main acts.