June 18 - Picardo's Meeting With Cameron On Tax Transparency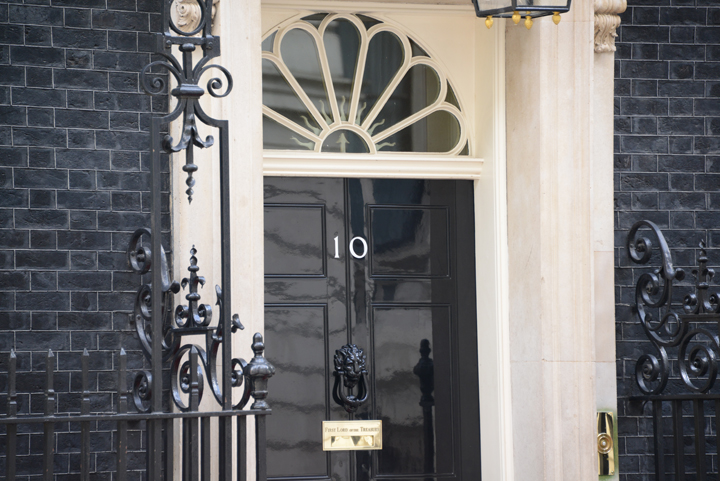 On Saturday morning the Chief Minister, Fabian Picardo, met with the Prime Minister, David Cameron, to discuss the issues of Tax and Transparency within Gibraltar, the Overseas Territories and Crown Dependencies. Gibraltar's finance centre, which is highly regulated and sits within the EU, has always welcomed the tighter controls and regulations that would force other jurisdictions onto a more level playing field.
Mr Picardo was invited to watch the Queen's Birthday Parade and was seated just behind the Prime Minister. From there, the overseas territories representatives as well as the crown dependencies, met together to discuss what more can be done to eradicate tax evasion, fraud, bribery and corruption. The meeting took place in the cabinet room, where Mr Cameron hosts his Cabinet for their weekly meetings. 
The Chief Minister stated that: "Gibraltar has been at the forefront of that battle, having transposed legislation requiring the identification of beneficial ownership of companies and trusts since the mid-nineties as a result of the transposition by Gibraltar of the anti-money laundering directives on an all-crimes basis."
Although corruption, bribery and fraud were high on the list, these issues were raised more in regards to certain African nations. With the G8 summit taking place this week in Northern Ireland, PM David Cameron took the opportunity to run a conference on Saturday at Lancaster House titled: "Open for Growth, Tax, Trade and Transparency". This brought together many nations, especially countries from Africa who, as the PM said, "were resource rich, but where corruption is rife". 
In Gibraltar, however, the issues are less about corruption, fraud and bribery, but more about aggressive tax avoidance, which in times of recession and austerity, governments want to eradicate. Certain parties said that "if it is not illegal to use structures to avoid paying tax then what is the issue?" One article in the UK press recently questioned the issue of morality saying that this had nothing to do with morals and that using tax efficient structures to ensure success within a business is part of the world we live in. 
With the likes of Starbucks, Facebook and Google having been in the media in the last few months with regard to their tax avoiding structures and setup, there has been an increasing pressure on the UK government to remove the loopholes that allow these companies to move large sums of money out of the UK. Although there is nothing illegal about what these companies are doing, some feel that it "just isn't right" and that it is morally wrong for these companies to make millions and then not pay anything. 
How can governments change the way that businesses work and pay their taxes? There is a need to change the legal loopholes in the UK and abroad that currently allow these companies to perform these large transfers to other more tax efficient jurisdictions. One of the delegates at the conference on Saturday spoke about a project for passport numbers for all companies and registered entities that would be used to trace money transfers across the world. This system would allow governments to find the real original source of the funds by using a sort of digital fingerprint.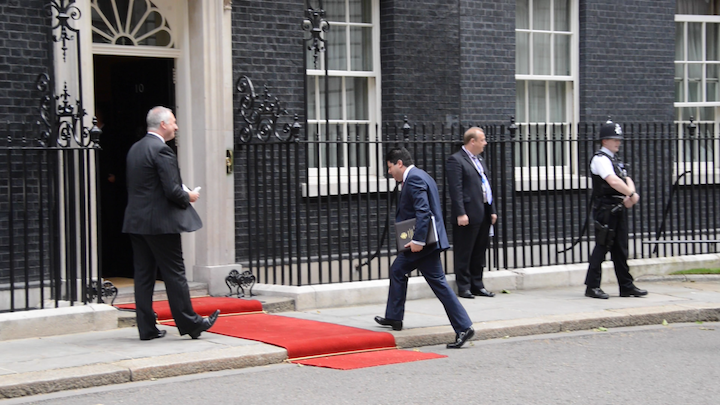 At the moment though, the plan would be to have an open register, like what is currently available in certain jurisdictions, that would allow tax authorities and maybe even the public, to access information regarding the beneficial owners of these companies. Gibraltar, which considers itself to be more than open, having already signed 26 Tax Information Agreements and having even written to Spain, to again clarify that "there are gateways the Spanish government can already use to access this information". 
The decision as to whether a Gibraltar Register would be open to the public or not is still under review, but as Fabian Picardo said to the press in London, "You can already find a huge amount of information available from Companies House in Gibraltar." He followed on with: "If people are looking to launder money, they won't come to Gibraltar, there are too many checks and procedures in place to allow them to". 
 Minister Licudi: "Meeting Was Extremely Positive"
The Minister for Financial Services, Gilbert Licudi QC, has described the pre-G8 Summit held in London last Saturday as extremely positive for Gibraltar. Mr Licudi attended the Summit as part of the events which included the meeting between the Chief Minister and the Prime Minister, David Cameron, at 10 Downing Street.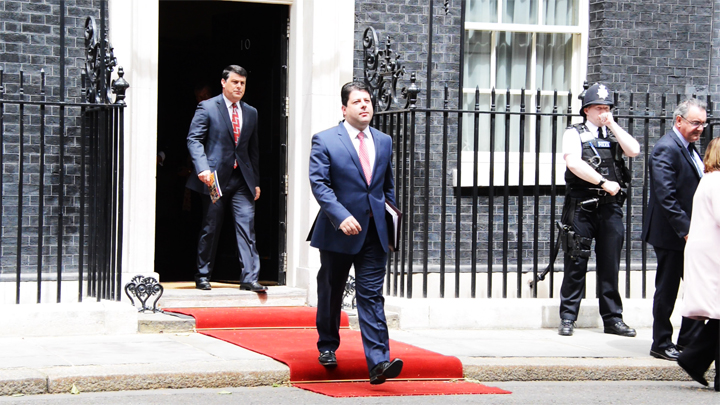 Speaking to the media in London, Mr Licudi said:"We are glad that there has been a recognition of the important steps taken by Gibraltar to eradicate tax evasion and fraud. This is not a process which starts today. We have taken action over many years and have embraced the global agenda against tax evasion. (Pic below shows Gibraltar flag flying next to flags of overseas territories)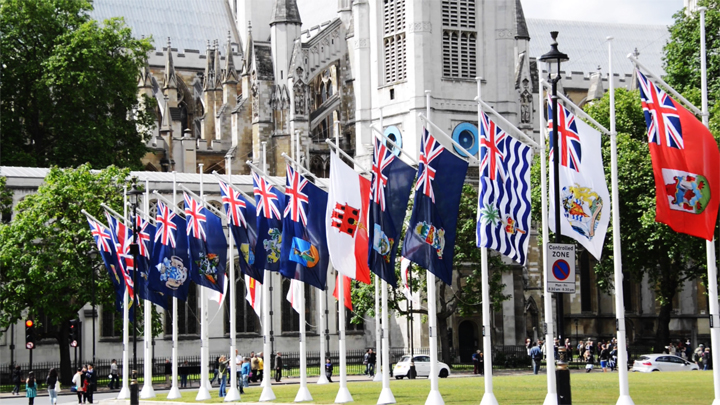 "We already comply with all relevant international standards on measures to combat money laundering and on transparency and co-operation on exchange of information on tax matters. We have signed 26 Tax Information Exchange Agreements. We are up-to-date on the transposition of all EU Directives including the Mutual Assistance Directive which means that we have TIEA-equivalent provisions with all Member States of the EU. We have given effect through legislation to all the recommendations made by the OECD Global Forum on Transparency and Exchange of Information for Tax Purposes following a peer review. We have agreed to sign an agreement with the US to facilitate the automatic exchange of information under FATCA. We have agreed to sign a similar agreement with the UK. We have agreed to form part of the G5 pilot announced by the UK, Spain, Germany, France and Italy on automatic exchange of tax information. We have also asked the UK to extend to us the Multilateral Convention on Mutual Administrative assistance on Tax Matters.
 "It is not enough simply to pay lip service to the principles of transparency and co-operation on tax matters. Commitment to these principles has to be followed by implementation. That is what Gibraltar has done. We are therefore entitled to demand fairness through a level playing field. That is why this G8 meeting is so important. It is necessary for the G8 countries to agree measures to ensure that transgressors are not able to ignore the global drive against tax evasion.  Gibraltar plays by the rules and we expect everyone else to do the same."
(Pic below shows flypast led by Nimrod and Typhoons, next pic shows Red Arrows)