Sep 13 - Gibraltar Autumn Culture Programme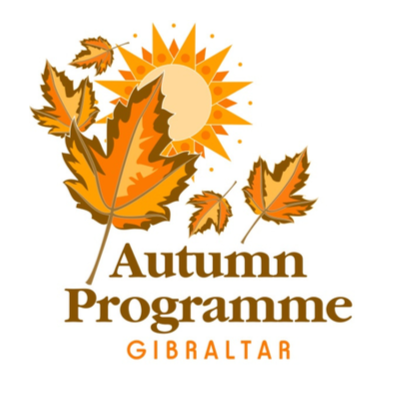 Gibraltar Cultural Services, on behalf of the Ministry of Culture has announced the programme of events for this year's Autumn Season, from 3rd October to the 31st December 2017.
Gibraltar Cultural Services is delighted to be part of what should be a series of enjoyable musical, dance and dramatic productions and trusts that everyone will find something to their liking. The programme includes well-loved events like the International Art Exhibition, the Gibunco Gibraltar International Literary Festival, the Christmas Festival of Lights and the New Year's Celebrations, amongst many other cultural activities.
The Ministry would like to encourage everyone to make the most of what this year's programme has to offer.
The full programme of events is attached.
AUTUMN CULTURAL PROGRAMME 2017
3rd October to 31st December 2017
Programme of Events
Tuesday 26th September to Thursday 5th October Annual Photographic Competitive Exhibition Organised by the Gibraltar Photographic Society Gustavo Bacarisas Gallery
10am to 5pm - Entrance Free
For further information please contact: This email address is being protected from spambots. You need JavaScript enabled to view it.
Tuesday 3rd to Friday 6th October
Art Exhibition by Gail Francis Tiron
Fine Arts Gallery
Casemates Square
10am to 6pm Mon to Fri – Entrance Free
For further info please contact the Fine Arts Gallery on 20052126 or email: This email address is being protected from spambots. You need JavaScript enabled to view it.
Wednesday 4th to Friday 20th October Berlin Art Residency Exhibition Organised by Gibraltar Cultural Services John Mackintosh Hall Galleries
9.30am to 9:30pm Free Entry
Saturday 7th October
Fitness Gallery
Organised by Gibraltar Cultural Services alongside sports stylist Kezia Lopez
Gibraltar Exhibition for Modern Art (GEMA) – 9.30am to 12.30pm
Participants fee of £38 available from www.klopezpt.com
For further information please contact GCS Events Department on 20067236 or email: This email address is being protected from spambots. You need JavaScript enabled to view it. or Kezia Lopez on email: This email address is being protected from spambots. You need JavaScript enabled to view it.
Classic Vehicle Static Display
Organised by the Gibraltar Classic Vehicle Association
John Mackintosh Square - 10am to 4pm
For further information please contact Howard Danino on 58225000
Cycling Marathon
Organised by the Royal Gibraltar Police
In aid of GBC Open Day
Casemates Square - 8am to 8pm
For further information please contact email: This email address is being protected from spambots. You need JavaScript enabled to view it. or 20072500
Dyslexia Awareness Day
Organised by the Gibraltar Dyslexia Support Group
Cathedral of St Mary the Crowned, Main Street – 10am to 2pm
For further information please contact email: This email address is being protected from spambots. You need JavaScript enabled to view it.
Tuesday 10th October 2017
Coffee and Chat - World Mental Health Day Organised by Club House Gibraltar Wellington Front – 11am to 4pm
Autumn Classical Concert
St Michael's Cave – 8pm
Featuring Matthew Hunt, Howard Shelley and the European Symphony Orchestra
Arranged on behalf of the Ministry of Culture by the Gibraltar Philharmonic Society
Tickets at £20 already on sale from Sacarello's Coffee Shop, Irish Town, the Silver Shop at 222 Main Street and buytickets.gi
Tickets at £10 for Senior Citizens and Students available at the John Mackintosh Hall reception
Bus shuttle available as from 6.30pm at Public Market and opposite the Cable Car
For further information please contact 20072134 or www.philharmonic.gi
Wednesday 11th to Saturday 14th October Dejavu
Organised by LOL Productions
Ince's Hall Theatre – 8pm
Tickets priced at £12.50
For further information please contact Giselle Baker via Facebook
Thursday 12th October
Museum Lecture
Organised by the Gibraltar Museum
Charles Hunt Room, John Mackintosh Hall - 7pm
Entrance Free
For Further information please contact Tyson Holmes on 20074289
Friday 13th October
Miss Glamour 2017
Organised by Glamour Creations
John Mackintosh Hall Theatre - 8:30pm
Tickets at £15
Tickets on sale at Diamond Occasions, 1st Floor, ICC as from Monday 25th September For further information please contact Bianca Zammitt on mobile 54000377
Saturday 14th October
Mini Olympiad Parade
Organised by the Royal Gibraltar Police
John Mackintosh Square to Victoria Stadium - 10am
For further information please contact email: This email address is being protected from spambots. You need JavaScript enabled to view it. or 20072500
Mini Olympiad
Organised by the Royal Gibraltar Police
Victoria Stadium - 11am to 4pm
For further information please contact email: This email address is being protected from spambots. You need JavaScript enabled to view it. or 20072500
2018 Calendar Launch
Organised by Bosom Buddies
Lobby of Parliament – 10am to 3pm
Calendars will cost £5 with all proceeds to the Bosom Buddies Cancer Trust and the GBC Open Day For further information please contact email: This email address is being protected from spambots. You need JavaScript enabled to view it.
Cancer Awareness Day
Organised by Cancer Relief
Cathedral of St Mary the Crowned, Main Street – 10am to 2pm For further information please contact telephone: 20042392
Wednesday 18th October
Rubens, Colour, Creativity, Diplomacy and Collecting Art Lecture by David Cross
Organised by the Gibraltar Decorative and Fine Arts Society O'Callaghan Elliot's Hotel - 7:30pm
For further information please visit www.nadfas.org/gibraltar
Friday 20th October
Think Pink Day
Organised by the Cancer Research UK Gibraltar Branch - 9am onwards
For further info please contact Giovi Viñales on email: This email address is being protected from spambots. You need JavaScript enabled to view it. or mobile 56631000
Romford Drum and Trumpet Corps Performance
Casemates Square – 4pm
For further information please contact Paul Binder on telephone +44 7533 207026
Saturday 21st October
Cancer Research Walk for Life
Organised by the Cancer Research UK Gibraltar Branch - 9am onwards
Casemates Square - 11am
Registrations as from 9.30am
For further info please contact Giovi Viñales on email: This email address is being protected from spambots. You need JavaScript enabled to view it. or mobile 56631000
Heroes Band Musical Concert
John Mackintosh Square – 1pm
Free Concert
For further info please contact John Seabrook on mobile +44 7809238111
Sunday 22nd October
Heroes Band
Ince's Hall Theatre - 7:30pm
Tickets at £10
For further info please contact John Seabrook on mobile +44 7809238111
Tuesday 24th to Friday 27th October
Exhibition by the Gibraltar Astronomical Society
Fine Arts Gallery
Casemates Square
10am to 6pm Mon to Fri – Entrance Free
For further info please contact the Fine Arts Gallery on 20052126 or email: This email address is being protected from spambots. You need JavaScript enabled to view it.
Wednesday 25th and Thursday 26th October
'El Barbero de Sevilla'
Zarzuela at the John Mackintosh Hall Theatre - 8:00pm Organised by Gibraltar Cultural Services
Tickets priced at £5 at the John Mackintosh Hall Reception As from Monday 16th October 2017
Sale of tickets limited to 10 per person
Saturday 28th October
Cake Stall
Organised by the Animals in Need Foundation
Lobby of Parliament - 10am to 2pm
For further information please contact email: This email address is being protected from spambots. You need JavaScript enabled to view it.
Friday 3rd November
IDO World Show Dance Championships Presentation Organised by Gibraltar National Dance Organisation Central Hall – 7pm
Entrance Free
For further info please contact: This email address is being protected from spambots. You need JavaScript enabled to view it.
Tuesday 7th November to Friday 17th November 44th Gibraltar International Art Exhibition Organised by Gibraltar Cultural Services
Gustavo Bacarisas Gallery
10:30am to 6:30pm weekdays
Saturday 10:30am to 1:30pm
Free Entry
For further information please contact: This email address is being protected from spambots. You need JavaScript enabled to view it.
Tuesday 7th to Friday 23rd November Exhibition by Stephen Hermida
Fine Arts Gallery
Casemates Square
10am to 6pm Mon to Fri – Entrance Free
For further info please contact the Fine Arts Gallery on 20052126 or email: This email address is being protected from spambots. You need JavaScript enabled to view it.
Wednesday 8th November
Poetry Competition Prize Giving
At the Charles Hunt Room, John Mackintosh Hall - 4.30pm Winning Entries will be published in The Gibraltar Chronicle For further information please contact: This email address is being protected from spambots. You need JavaScript enabled to view it.
Thursday 9th November
Museum Lecture
Organised by the Gibraltar Museum
Charles Hunt Room, John Mackintosh Hall - 7pm Entrance Free
For Further information please contact Tyson Holmes on 20074289
Violin Recital
The Convent Ballroom – 8pm
Featuring Guy Braunstein and Ohad Ben Ari
Organised by the Gibraltar Philharmonic Society
Tickets at £20 from Sacarello's Coffee Shop, Irish Town, the Silver Shop at 222 Main Street Tickets at £10 for Senior Citizens and Students available at the John Mackintosh Hall reception For further information please contact 20072134 or www.philharmonic.gi
Tuesday 14th November
World Diabetes Day 2017
Lighting Up of the Moorish Castle in Blue
Organised by Diabetes Gibraltar
Casemates Square – 7pm to 8pm
Free Entry
For further information please contact: Isabella at This email address is being protected from spambots. You need JavaScript enabled to view it. or mobile 57209000
Wednesday 15th November
The Wallace Collection
Art Lecture by Stephen Duffy
Organised by the Gibraltar Decorative and Fine Arts Society O'Callaghan Elliot's Hotel - 7:30pm
For further information please visit: www.nadfas.org/gibraltar
Thursday 16th to 19th November
The Gibunco Gibraltar International Literary Festival
For further information please visit: www.gibraltarliteraryfestival.com 10am to 6pm
Saturday 18th November
Save the Children Raffle
Organised by the Save the Children Gibraltar Branch Casemates Square – 10am to 2pm
For further information please contact telephone: 20065370
Tuesday 21st to Thursday 30th November Art Exhibition
Organised by Kim Soler
Gustavo Bacarisas Gallery
9am to 7pm weekdays and 9am to 2pm Saturday
Free Entry
For further information please contact: Kim Soler on +34 680445079 or email:This email address is being protected from spambots. You need JavaScript enabled to view it.
Wednesday 22nd to Sunday 26th November
Gibraltar International Magic Festival
Organised by GibMedia on behalf of the Ministry of Culture John Mackintosh Hall
Tickets priced at £10.00 available online from www.buytickets.gi For Further information please visit: www.magic.gi
Thursday 23rd and Friday 24th November That's Entertainment
Organised by Rock Theatre
John Mackintosh Hall – 8pm
Tickets priced at £15.00 and £20.00
For further information please contact Angela Jenkins on mobile +56000756
Friday 24th November
Christmas Festival of Lights
Organised by Gibraltar Cultural Services and the Gibraltar Electricity Authority
Featuring song, dance, choirs, arts and crafts, the Christmas Lights switch on and a special appearance
by Father Christmas and his elves
John Mackintosh Square - 5:30pm to 8:00pm
For further information please contact the Events Department at GCS on 20075669 or email: This email address is being protected from spambots. You need JavaScript enabled to view it.
Saturday 25th November
Movember
Organised by Prostrate Cancer Support Group
Casemates Square – 9.30am to 1.30pm
For further information please contact: Charles Menez on 58009161
Christmas Cake Stall
Organised by Gibraltar Cheshire Homes Support Group
Lobby of Parliament – 10am to 2pm
For further information please contact email: This email address is being protected from spambots. You need JavaScript enabled to view it.
Monday 27th November
International Exchange of Digital Images
Organised by the Gibraltar Photographic Society
Viewing of images from Photographic Societies of Edinburgh, Exmouth, Waikato, Johannesburg, Paris
and Gibraltar
For further information please contact: This email address is being protected from spambots. You need JavaScript enabled to view it.
Thursday 30th November
Convent Christmas Fair
The Convent – 12noon to 7pm
For further information please contact by email: This email address is being protected from spambots. You need JavaScript enabled to view it.
Friday 1st December
World Aids Day Awareness
Organised by the Gibraltar Health Authority Casemates Square – 10am to 2pm
A Journey Through Time – 20th Anniversary Concert
Organised by Tears of Joy Choir
Ince's Hall Theatre - 8pm
Tickets at £10
Tickets on sale at Waterport Pharmacy as from Monday 6th November For further info please contact: Melissa Hales on mobile 54024738
Saturday 2nd December
Piazza Stall
Organised by the Gibraltar Heritage Trust
Lobby of Parliament – 10am to 2pm
Gifts and books on sale including the Trust's annual calendar and journal
For further information please contact 20042844 or email: This email address is being protected from spambots. You need JavaScript enabled to view it.
Classic Vehicle Static Display
Organised by the Gibraltar Classic Vehicle Association
Casemates Square - 10am to 4pm
For further information please contact: Howard Danino on 58225000
Winter Party in Town
Organised by the Ministry of Culture
For further information please contact the Ministry of Culture on 20047592, email: This email address is being protected from spambots. You need JavaScript enabled to view it.
Saturday 2nd December to Sunday 14th January 2018 Christmas Fun Fair Attractions
Organised by Gibraltar Cultural Services
John Mackintosh Square
For further information please contact: Gibraltar Cultural Services at This email address is being protected from spambots. You need JavaScript enabled to view it.
Thursday 7th December
Christmas Crafts for Adults
Organised by the Gibraltar Heritage Trust
The Main Guard, John Mackintosh Square – 10.30am and 6.30pm
£10 per class includes all materials
For further information please contact: 20042844 or email This email address is being protected from spambots. You need JavaScript enabled to view it.
Museum Lecture
Organised by the Gibraltar Museum
Charles Hunt Room, John Mackintosh Hall - 7pm
Entrance Free
For Further information please contact Tyson Holmes on 20074289
Thursday 7th and Friday 8th December Christmas Flower Show Exhibition Organised by Gibraltar Horticultural Society John Mackintosh Hall Gallery
9.30am to 9:30pm on both days
Free Entry
For further information please contact: Maurice Gache on 54040022
Tuesday 12th December to Friday 20th January 2018 Affordable Art Christmas Art Exhibition
Fine Arts Gallery
Casemates Square
10am to 6pm Mon to Fri – Entrance Free
For further information please contact the Fine Arts Gallery on 20052126 or email: This email address is being protected from spambots. You need JavaScript enabled to view it.
Tuesday 12th to Thursday 21st December
Art Exhibition by Rafael Palomino
Organised by Mar del Sur
John Mackintosh Hall Lower Exhibition Gallery 9.30am to 9:30pm Mon to Fri
Free Entry
Wednesday 13th December
GBC Open Day – Radio Show
John Mackintosh Square - 9am to 6pm
For further info please contact Ian Daniels on 20079760
GBC Open Day – Live TV Show
John Mackintosh Hall Theatre – 9pm
For further info please contact Paula Latin on 20079760
The Mona Lisa and the Art of Leonardo
Art Lecture by Nicole Mezey
Organised by the Gibraltar Decorative and Fine Arts Society O'Callaghan Elliot's Hotel - 7:30pm
For further information please visit: www.nadfas.org/gibraltar
Thursday 14th December
Carols by Candlelight
Concert by the Gibraltar National Choir
Cathedral of the Holy Trinity – 8pm
Tickets priced at £12 on sale at the door
For further information or to reserve tickets please contact mobile 54831000 or email: This email address is being protected from spambots. You need JavaScript enabled to view it.
Thursday 21st December
The Piano and Dance Obsession Continues
Organised by Danza Academy
John Mackintosh Hall – 8pm
Tickets priced at £15.00 available at Danza Academy Studio, 68/1 Prince Edwards Road For Further information please contact email: This email address is being protected from spambots. You need JavaScript enabled to view it.
Monday 26th December
Boxing Day Charity Fun Run
Organised by Gibraltar Amateur Athletics Association Casemates Square
For further information please visit: www.gaaa.gi
Polar Bear Swim
Organised by GASA in aid of Royal Marsden Cancer Charity
For further information please contact: This email address is being protected from spambots. You need JavaScript enabled to view it.
Polar Bear Swim
Organised by the Caleta Hotel
Catalan Bay
Certificates, mince pies and hot toddies provided by Caleta Hotel
For further information please contact: the Caleta Hotel on 20076501
Sunday 31st December
New Year's Eve Celebrations
Organised by Fresh Entertainment on behalf of the Ministry of Culture
Casemates Square 10:30pm to 3am
Free Family Event
For further information please contact: Fresh Entertainment on email This email address is being protected from spambots. You need JavaScript enabled to view it.