Sep 14 - Natwest/RBS Celebrates 30th Anniversary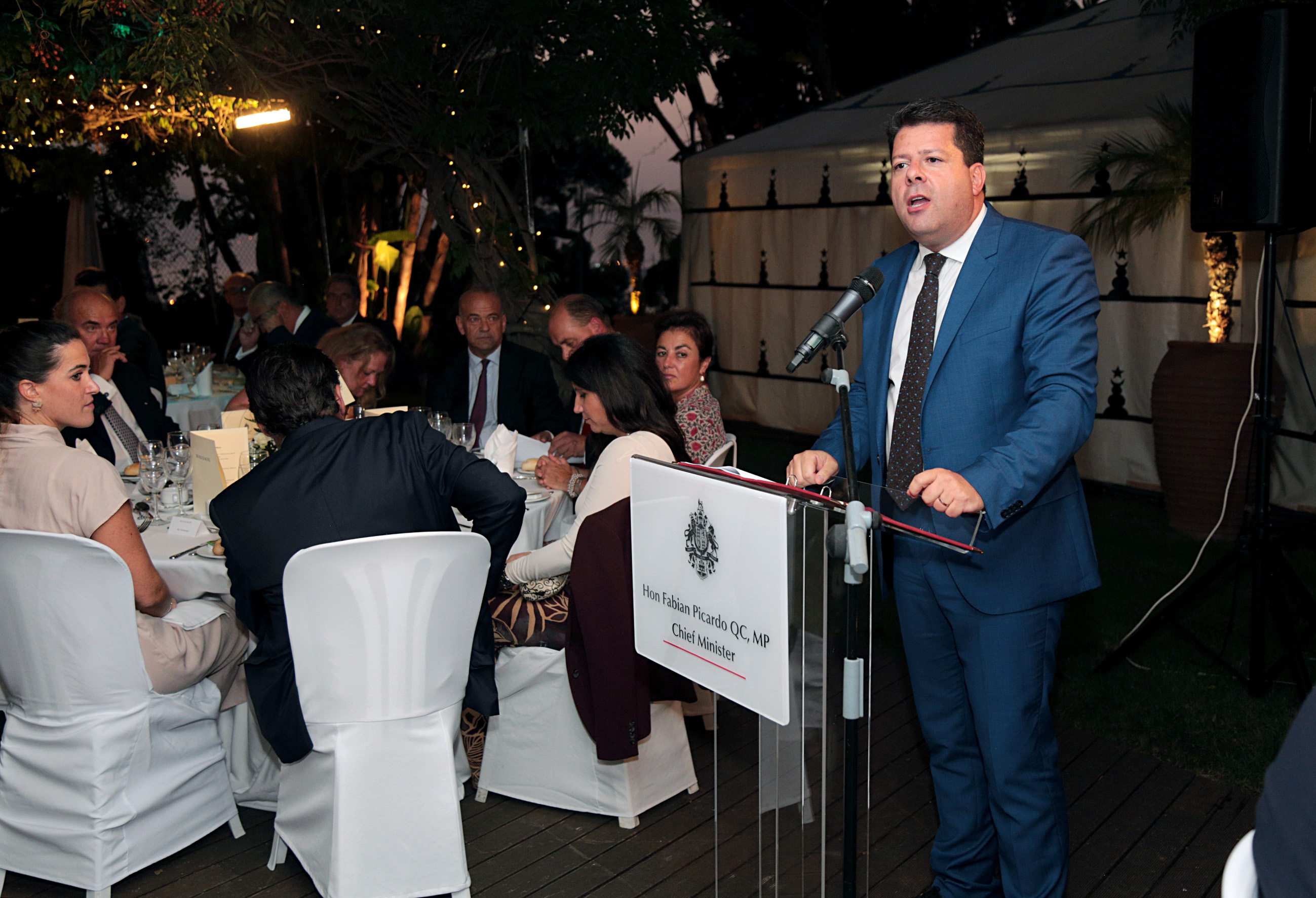 On Wednesday night, the Chief Minister, Fabian Picardo, hosted a dinner to celebrate the 30th anniversary of NatWest/Royal Bank of Scotland's presence in Gibraltar.
The Chief Minister gave a speech of welcome to the guests and there were responses from David Bruce, Head of Corporate & Commercial Coverage, RBSI & Country Head – NatWest International and Andrew McLaughlin, CEO Royal Bank of Scotland International (RBSI) Ltd.
Here's the Chief Minister's speech:
Ladies and Gentlemen
It is a real pleasure to welcome you to this celebration by Her Majesty's Government of Gibraltar of the THIRTY YEARS that Natwest has been a strong and valued part of our community. This is an important time in our history.
And by celebrating your thirtieth birthday as a part of our community, we are recognising also that you are an important part of our history.
Today, a prosperous, diverse and modern Gibraltar is preparing to leave the European Union with the United Kingdom.
Yet, 30 years ago, Gibraltar was starting to see the opportunities for real benefit from the re-opening of the frontier.
We were starting to see a boom in business in Gibraltar as Spain began its successful period of membership of the then European Economic Community.
We were starting to open ourselves to a new Europe that was being built by London, Paris, Berlin and Rome.
Madrid was joining a club that would transform Spain physically and economically.
The political relationship between Gibraltar and Spain would, for the past 30 years, be underpinned by our common membership of the Common Market.
And that arrangement worked.
With varying degrees of aggravation, it has to be said!
But the EEC, and later the EU, has been an imperfect arbiter of the political ups and downs of the relationship between us and our nearest neighbour.
And Natwest and its clients, Gibraltar and its people, have been the beneficiaries of this period of relative normality.
And a normality that was never quite achieved.
A normality that was cast asunder by the result of the Referendum of June 2016, the effects of which I will come to in a moment.
But in the 30 years since you first laid out your shingle on Line Wall Road, we have seen many further developments in Gibraltar.
You have seen us peacefully change Government from the AACR to the GSLP.
And then to the GSD.
And then back to the GSLP Liberals.
You have four Chief Ministers under your belt already!
You have seen us move from an outdated Constitution that did not reflect the reality on the ground, to a more modern Constitution that better reflects a modern relationship not based on colonialism between us and Britain – whether or not it represents the maximum possible level of self-government short of independence.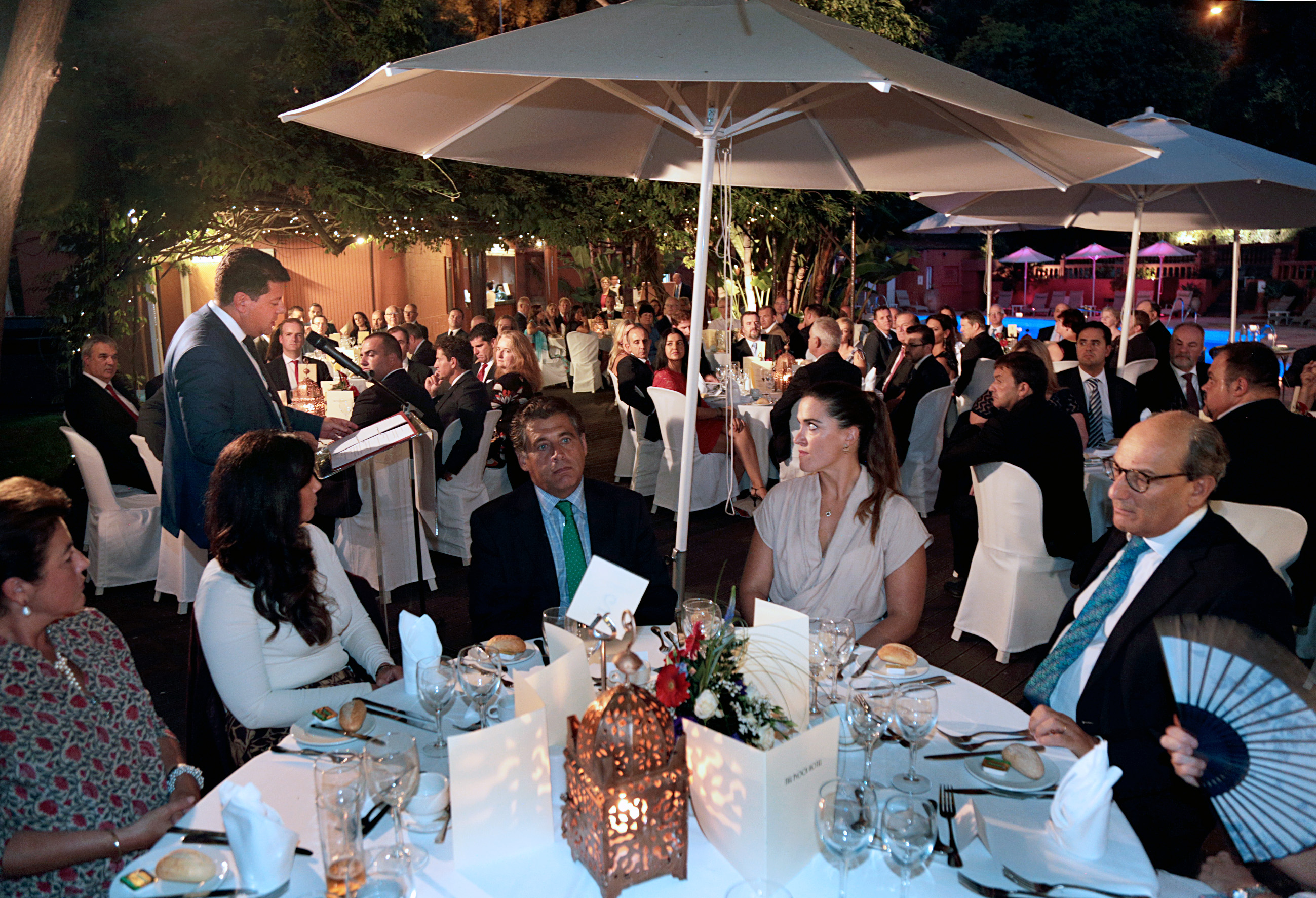 You have seen us return to the United Nations in 1991 to assert our right to self determination.
You were here for the birth of National Day.
You have seen the landscape of Gibraltar change dramatically as the first GSLP administration started the reclamation projects.
When you arrived we were a nation of renters of overcrowded flats. You helped us on the road to a nation of homeowners.
Mortgage payers.
50/50 purchasers.
All this with your help and your lending.
You have seen us move into the forefront of telecommunications as our telephone department became GibNynex and then Gibtelecom.
You were here for the first year of massive take up of scholarships by Gibraltarian school leavers.
You were there to provide us with accounts and debit cards as we studied.
You have been here to see us return as professionals in need of more mature banking relationships as we grew our families.
You saw the various MOD Land Deals of the GSD make more of the geography of Gibraltar available to Gibraltarians as the land became surplus to defence requirements. Now you are lending on Gibraltarians' purchases of those ex-MOD properties.
You have seen Trilateral Forum for Dialogue and the Cordoba Agreements come and go.
And then the digital and internet age has come upon us all. And now the even more pervasive social media age.
And with it, the ubiquitous presence of smart phones as the instrument through which we all do business and connect to the world.
Who would have told us we would be able to see our bank balance with you on our telephones when you first opened in 1988?
Or that we would be able to transfer money using our fingerprints on our smart devices?
Or that Gibraltar would become the first jurisdiction in the world to licence DLT BLOCKCHAIN CRYPTO CURRENCIES.
And the home of online gaming?
The place from where 1 in every 5 UK vehicles in insured. 20% of the market.
You have seen so much change in 30 years, I don't think we have long enough before midnight for me to go through the full list.
But the important thing is that you haven't just stood idly by.
You haven't just watched that change.
You have been a participant in that change.
You have been a partner to successive governments in the financing of Capital Projects through Government companies.
You have been the PFI partner for our hospital under one Government.
You have been the financier for the building of our new power station and our LNG facility under another.
You have been an employer to hundreds of Gibraltarians. You have been a lender to home buyers and businesses. You have been a part of this community.
And it is therefore right and proper that we thank you for your role in our growth and our development these past three decades.
How Gibraltar has changed.
How it will change.
Always for the better.
Always improving what we offer our citizens.
Always showing a better face to the world.
Thank you therefore for what you have meant to us already. And thank you also for your commitment to our common future.
I stood just here, at this same lectern, before many of those of you here assembled just over two years ago, in the week after the result of BREXIT referendum was announced.
I told you then that we would seek for Gibraltar a differentiated deal to that of the rest of the United Kingdom as we leave full membership of the European Union.
Some thought that would not be possible.
Indeed, some thought that we would be wrong to pursue such a solution.
Yet today, some twenty-six months on, I am able to tell you confidently that the need for such a differentiated solution has been understood as much in London as it has in Brussels and in Madrid.
Today I am optimistic that we will soon not hear more of sterile vetoes when it comes to Gibraltar and our future relationship with the EU.
I sincerely believe that we will be able to talk about a future for Gibraltar which provides not just for a continued, enduring, political relationship with Britain.
But also for a continued, enduring, political relationship with Europe.
Considerable work has been done by the team I assembled in the immediate aftermath of the Referendum, to seek to secure the realistically deliverable opportunities that arise in the context of BREXIT.
Where there was no contact at all with Spain in the Partido Popular period before the result of the Referendum, at least discrete contact has been possible since then.
And in that process we have not had to compromise any of the cardinal ingredients of what we believed might have made such contact safe for Gibraltar.
There has been no separate, bilateral process between the United Kingdom and Spain in relation to Gibraltar.
That would have been unacceptable to Gibraltar.
As a result, it is fair to say that I can warmly and positively echo the words attributed to the current Spanish Foreign Minister, Josep Borrell yesterday by GBC.
Mr Borrell has been quoted as having told GBC yesterday that Gibraltar, "will not be the last rock on the road, but the first step to the Brexit agreement."
There is no deal to announce yet.
There is not yet any text beyond the Withdrawal Agreement to pore over that can be published.
But there is goodwill. There is understanding.
And there is a desire to see a future relationship which provides certainty to residents of Gibraltar and citizens of the Union.
That means protecting established rights.
It means working to ensure frontier fluidity is assured. But it means exploring new opportunities too.
Because every crisis is an opportunity and BREXIT is a crisis for the whole of Europe.
I am unable yet to provide you with any concrete details. But I can tell you that the direction of travel is a positive one. But also, of course, that the devil is in the detail.
And we remain vigilant that there should not be any attempt to try to advance in areas of sovereignty or other unacceptable aspects of what might eventually be agreed or the form in which it might be agreed.
That would never be acceptable to a Government of Gibraltar.
But the future in which I hope, trust and believe you will continue to be our partners, is a bright one.
The future in which your clients will operate in Gibraltar will continue to be a vibrant one.
The future in which Gibraltar will continue to have a relationship with the European Union will deliver prosperity not just for us, but for all the Bay and Campo around us also.
Already we have seen our commercial access to the United Kingdom markets assured.
We have seen health, education, gaming and financial services access secured as a result of the work we have done with the UK government.
Now we hope to be able to say more in coming weeks of what else we have been able to secure for the future.
One thing is for sure, you have been right to have faith in this economy. You have been right to invest in our people.
You are right to see yourselves as a part of our future and not just of our past.
Because 1988 was a time when Gibraltar was booming.
And there is no reason to think we will not continue to blossom in years to come.
Happy Birthday Natwest.
Let us celebrate many more years together in Gibraltar.
{fcomment}