Feb 05 - Minister Sacramento Visits La Linea Disability Centre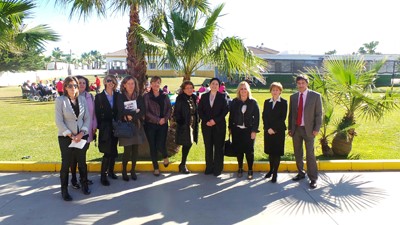 Minister for Social Services Samantha Sacramento, recently paid a visit to Asansull, in La Linea, to familiarise herself with the workings of the Centre which caters for people with learning disabilities of all ages. The Minister was accompanied by the Care Agency's Chief Executive Officer and senior Goverment officials.
Ms. Sacramento and her party were taken round the different installations at Asansull, which was established in 1970, through initiatives undertaken by families of the affected residents.
Ms Sacramento expressed her gratitude for the courtesy and facilities afforded to her department by Asansull's President Maria Luisa Escribano and her staff. During her visit, the Minister was also escorted by the Deputy Mayoress of La Linea Ascuncion Barranco, who in addition to her responsibility for relationships with Gibraltar is also responsible for Social Services.
The Minister has carried out similar visits to the UK to assess current developments. Both visits have been undertaken with a view to develop and improve the services that are currently available in Gibraltar.