Feb 12 - GGR Launch Website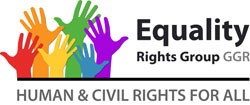 Local Equality Rights Group, the GGR recently launched their website at www.equalitygib.org, under the theme 'Join the Conversation'. The group has also revealed their Facebook group 'Equality Rights Group' and twitter page @equalitygib.
Group Treasurer, Andrew Rodriguez noted that the demand for information on the group's work is slowly increasing as excitement builds up towards the Civil Partnership Legislation release.
Mr. Rodriguez added, 'the broad focus on the rights of the People of Gibraltar as a People, and of individual sectors and persons on the Rock is where we have always aimed to be as an Organisation. No sector should be left out in the cold or unattended to.
'In fact it has been the ongoing involvement and demand of people of all sorts across our community, which have slowly but surely developed us in the direction of the broad-based organisation we have become as we move towards our second decade of work.
'We have to thank Ivan Hernandez of iCreative Ltd for sponsoring and designing the website, where information on all our work is openly available in one place for the first time for all to see and participate in.'