Feb 26 - Gibraltar's Jewish Community Celebrates Purim with the Mayor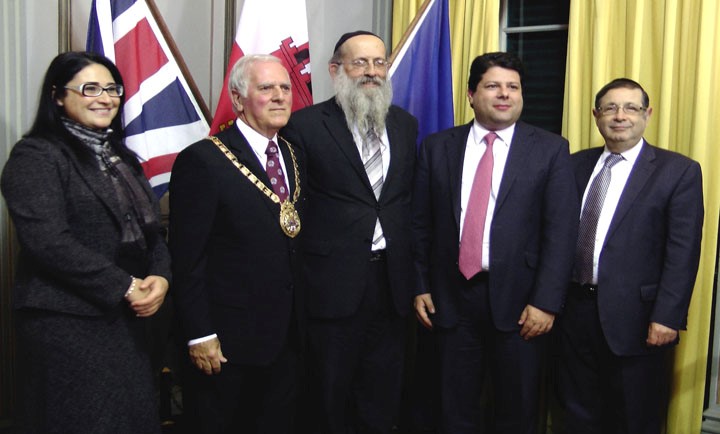 The beginning of this week has been particularly special to the Jewish Community, as they celebrate the religion holiday of Purim, which marks the deliverance of the Jews from their enemies in the Persian Empire, as is stated in the Book of Esther.
Speaking in front of the Chief Minister, the president of Gibraltar's Jewish Community James Levy and Rabbi Hassid, during a reception held at City hall yesterday evening, His Worship the Mayor noted that Gibraltar owes a lot to the Jewish community, who have been in Gibraltar for over 650 years and have made significant contributions to business, Government and commerce. Chief Minister Fabian Picardo added that the community has provided leadership, as much as they have provided workers and the whole gamut that represents the people of Gibraltar.
The Holiday follows Jewish families sending gifts to each other, as well as charities. The holiday also involves families dressing up in costume and organising festive meals.
Concluding his speech at the Reception, Mayor Tony Lima quoted from the book of Esther. In response, President of the community, and Senior Partner of Hassans Law Firm, James Levy noted that it was extremely humble and sensitive for the Mayor and his wife to have invited the community to celebrate Purim at the City Hall.
Following the speeches, Mr. Levy presented His Worship with an illustrated book of Psalms, which he commented was common to both the Jewish and Christian faiths. Mayor Tony Lima was also presented with 'the famous Purim sweets made of almonds'.
Many salient figures of the community were present at the Reception, including former Mayor Momy Levy.