Mar 15 - Comic Relief Bake Sale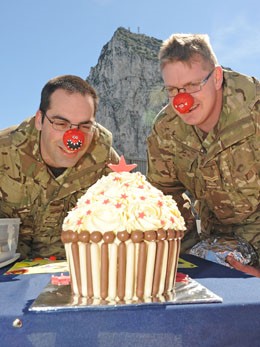 A Comic Relief Cake Sale, held at RAF Gibraltar yesterday, raised £150 in aid of the Red Nose Day Charity. Steph Ball of the Met Office organised the event with her colleagues Katrina and Heloise of Air Traffic Control.
A giant cupcake was baked by Katrina, with young bakers 11 year old Adam Reece and 3-year-old Dylan Reece also contributing to the event. Today marks Red Nose Day, which has been an on-going charity day for 25 years.