Mar 15 - Regiment Soldiers Receive Maths and English Qualifications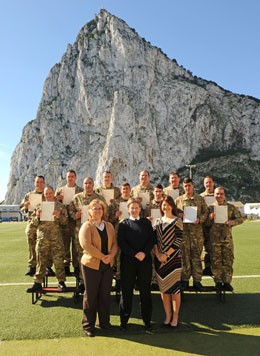 A presentation ceremony took place at Devils Tower Camp today involving 12 soldiers from the Regiment receiving their City & Guilds Level 1 and 2 Certificates in Maths and English.
Lieutenant Commander Fiona Cameron, Officer Commanding Joint Education and Training Unit (JELIC) presented the Certificates and said, 'It is an absolute pleasure to present these certificates this morning, the students have really applied themselves, this education is an essential requirement for promotion so it will benefit future career options.'
The training involves a mix of online and classroom based learning and is offered free to all soldiers within the Regiment.
Commanding Officer Colin Risso thanked the Education team, noting, 'education was one of our priorities this year and I am pleased to see we are delivering in that area. We have only been able to achieve this through hard work from the individuals and the dedication of the staff in the Education Centre.'