Mar 19 - Regiment Leavers Presented with Gifts for 22 Years of Service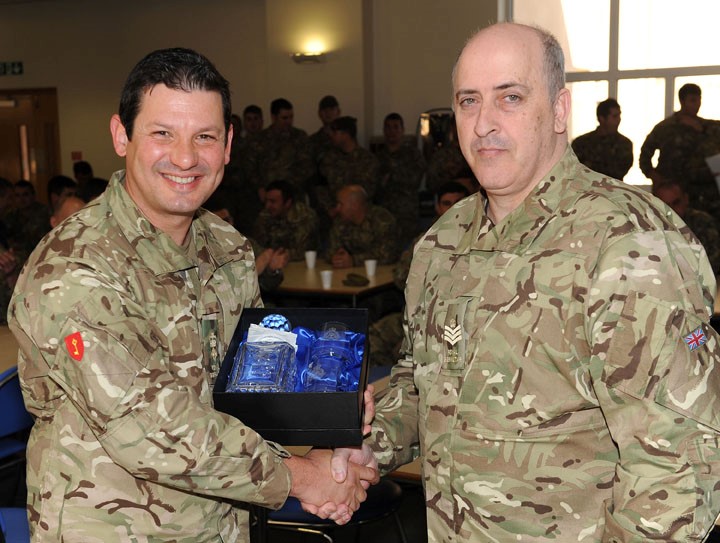 Three members of the Regiment were presented with a leaver's gift from Commanding Officer Colin Risso on completion of 22 years service.
WO2 Steve Kelly joined the Regiment in 1990 after serving in the TA for two years. He has been deployed to UK, Morocco, Gambia, Cyprus and Kosovo and his final job was as MTWO.  He noted, 'thanks to everyone who has supported me in the Regiment, today is inevitable, it comes very quickly so make the most of what you have got here.'
CSgt Dennis Fa accepted his presentation and admitted that he was 'not much of a speech guy' but he expressed his thanks to the CO and the Regiment. CSgt Fa enlisted into the Regulars in 1991 having previously served 10 years in the TA. He has been deployed to Bosnia and Herzegovina and his final position in the Regiment was Mess Manager.
Sgt Mark Crisp joined the Regiment in 1990 when he completed his basic training at the Artillery Training Depot in Woolwich. He has been deployed to UK, Cyprus and Morocco to support the Regiment as a Chef and went on tour to Northern Ireland as a Chef in 2002. He was evidently sad to be leaving and said a heartfelt few words, 'this has been a truly enjoyable experience, this is my family and it's incredible that it has come to an end. From my heart I say to all the new lads who have joined the Regiment, do your best, this is a family, do it for Gibraltar.'