Mar 22 - MOD Chief Fire Officer Retires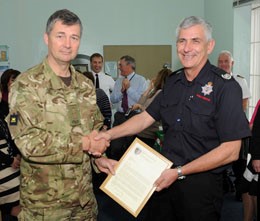 MOD Chief Fire Officer Alec Button retired yesterday, after 36 years service. Mr. Button joined the Admiralty Fire Service in 1977 working in Dock Yard with specialist fire training for ships. The Defence Fire Service was created in the early 90's and relocated to the airfield. The Admiralty Fire Service were then given conversion training from ships to aircraft.
In 1997, Alec was made Chief Fire Officer. Commenting on his career, he noted, 'A major achievement for me personally was coming to an operational role and overseeing new fire safety initiatives. When I started where was a lot of new fire safety legislation, which I have had to follow up on and implement, it has been an evolving process working to the new EU Framework and we now have a fully compliant MOD Estate'.
Colonel John Powell, Chief of Staff, presented Mr. Button with a leaving gift, adding, 'both Commander British Forces Gibraltar and I are enormously grateful for the advice and guidance you have given us to enable continued fire safety cover, it is impossible to summarise in detail 36 years of service but you leave this Headquarters a respected and professional individual who will be missed'.