June 21 - GDP Stranger Danger Campaign Poster Winner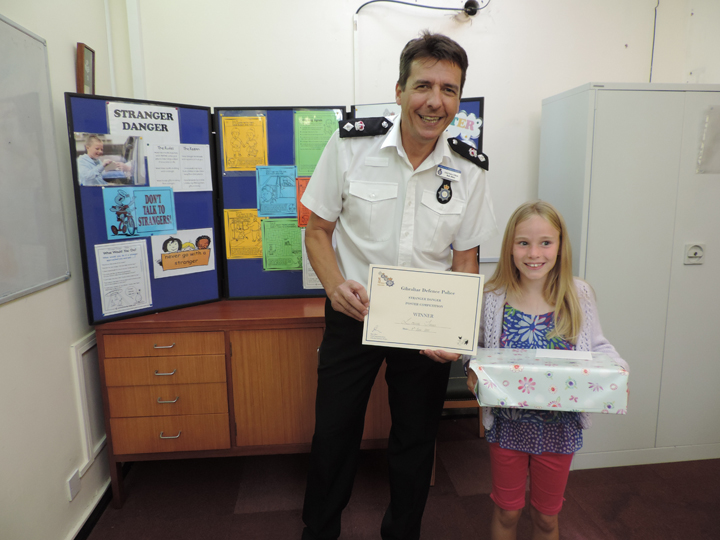 The recent Open Day held by the Gibraltar Defence Police as part of the force's 75th Anniversary celebrations was a great success and attracted a number of visitors to the Naval Base. During the day the GDP Community Team ran a children's competition to colour and design a poster as part of their 'Stranger Danger' campaign.
GDP Community Liaison Officer PC71 Dina Laoudy organised the competition and said: "The Stranger Danger campaign aims to raise awareness within the younger community and warn of the dangers of talking to strangers, accepting gifts or hitching a ride and explains what to do if approached by a stranger. The winning poster will now be used in as part of this year's campaign"
There were over 100 entries to the competition which were narrowed down to 3 winners and the overall winner was Louisa Jeans aged 7.  Chief Police Officer Rob Allen presented her with a prize and commented on how high the standard of entries were for the competition he also highlighted the importance of such campaigns for the development of our children by linking fun with educational messages.
Aimee Acolina aged 7 won 2nd place and Leah Bisset aged 9 took 3rd.  The campaign will run from September this year to January 2014