Apr 11 - RG Visited During Exercise Jebel Tarik in UK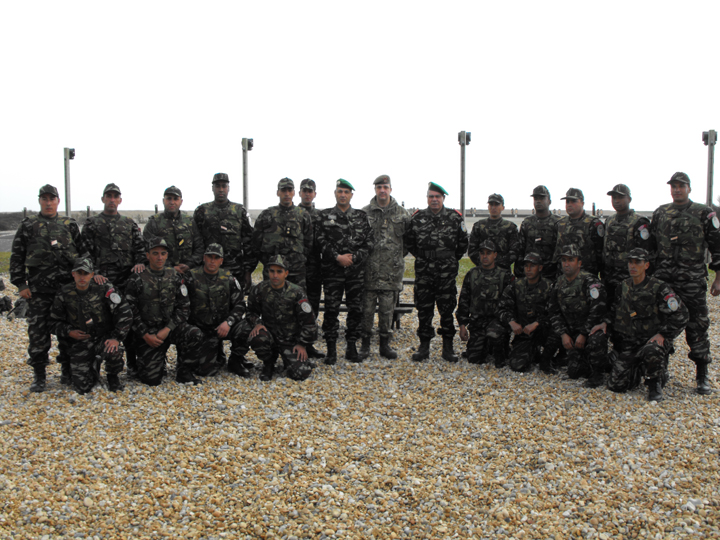 The Commandant Deuxieme Brigade d'Infanterie Parachutiste (2BIP), General de Brigade M'barek Moutaleb, of the Royal Moroccan Armed Forces, visited the Royal Gibraltar Regiment (RG) during their annual UK training camp Exercise Jebel Tarik.
The month long training exercise in Folkstone and Brecon has seen joint training with both regulars and reservists from the RG, a number of soldiers from 2BIP and elements of the Light Dragoons.
The Royal Gibraltar Regiment has a strong and long standing relationship with the Moroccan Armed Forces built up over the last 13 years through their annual joint training Exercise Jebel Sahara in Marrakesh.
The General said, '2 BIP has trained for many years with the RG and it has benefitted us both working in a multinational environment. Nations have long realized we can no longer work in isolation, and by building these relationships we become better educated and stronger for it. These joint exercises also increase our experience as soldiers and officers.
The General also went on to talk about the benefits of training in a completely different environment and the chance to improve language skills and cultural understanding.
'This Exercise gives our Soldiers and Officers the ability to reach a new standard by training in an environment which is unusual to them, and conditions which they are not used to. This will help create Soldiers and Officers who are more adaptable and able to operate within the mission specific framework of our British counterparts.
 'We ensure there are a couple of English speaking Officers or Soldiers present, but it is also an opportunity for others to learn the language and culture. This enables members of the Moroccan Armed Forces to understand the British and to make for much more integrated training in the future.'
This visit was also an opportunity for the General to meet members of the Light Dragoons who will be training with the Royal Gibraltar Regiment and his Brigade on Exercise Jebel Sahara 14.
During their time in the UK on Exercise Jebel Tarik, the Governor and Commander-in-Chief of the Gibraltar Regiment visited them. The Governor arrived in Sennebridge Training Area, Brecon, in the early hours and witnessed an early morning 'Fighting in Woods and Forrest Attack', all members of I Company and a Platoon from Moroccan Armed Forces 2BIP carried out the scenario under the Command of Major David King.
Following the attack he spent time talking to the soldiers of I Company before spending some time with Reservists soldiers in B Company who were going through mandatory Live Firing Training.