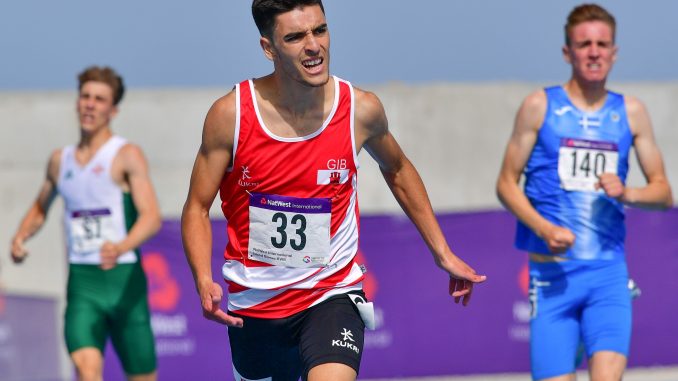 Gibraltar's Franco Races To Athletics Gold Double
By Ryan Smart
The fairytale for sprinter Jessy Franco continued as he took home the 400m gold medal at Lathbury in front of his home fans.
Franco, 20, won the race in an official time of 48.34, just 0.22s off his outdoor personal best.
He finished ahead of Sherlock Brooks in second, with 800m champion Seumas Mackay crossing the line in third.
The win means Franco ends this edition of the Island Games in his home country with two gold medals, having also tasted victory in the 200m on Sunday.
Franco said of his latest victory: "It's an amazing feeling to come back and get a second gold in the 400 metres.
"It was a tough competition, the wind was really bad but I came through and got a gold again."
The wind had played a part in the results of races throughout the week, reaching a high -7.3 during Franco's win on Sunday.
It reached a positive +2.9 last night, but Franco still found it a challenge to run in the conditions.
The Gibraltar athlete stated: "Today it wasn't as bad but it's still in bad conditions.
"Obviously me being the smallest and everyone else being bigger and taller is a disadvantage to me.
"But it came through and I got the gold."
One of the lasting memories of this year's Island Games in Gibraltar will be the amount of fans that have supported all the sports throughout.
And Franco couldn't praise them enough.
He added: "To be living in Gibraltar, being born in Gibraltar and having the Island Games in Gibraltar, as well as having my friends, family and supporters here to cheer me on, it's an amazing feeling."
Pic: Jessy Franco crosses the line in the men's 400m (Credit: David Parody)