Jan 29 - Chess Festival - Masters Round 7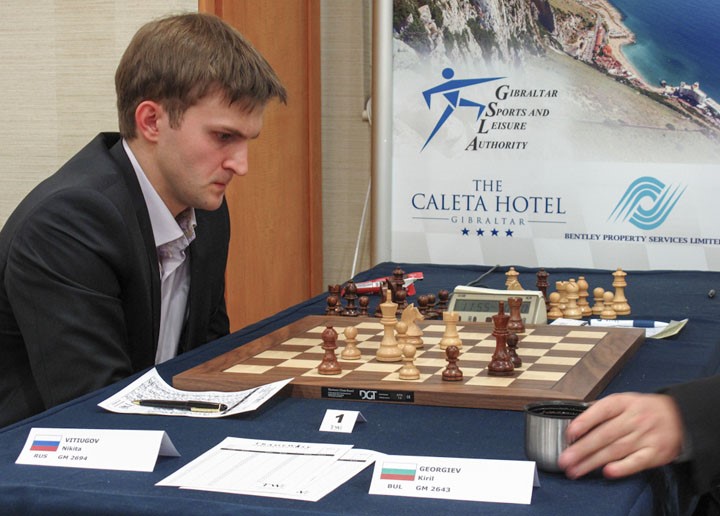 John Saunders reports: For the first time this year the Tradewise Gibraltar Masters tournament has a sole leader. Russia's Nikita Vitiugov defeated Kiril Georgiev in a six-hour struggle to move to the head of the field with a score of 6½/7 (six wins and one draw). Three players trail him on 6 points: Le Quang Liem, of Vietnam, Gata Kamsky, USA, and England's Nigel Short. Three rounds remain.
25-year-old Nikita Vitiugov is ranked ninth in this year's line-up and his fine performance is not unexpected. Hitherto he has maintained a fairly low profile in the chess world, with few invitations to elite tournaments, but his performance at the prestigious Gibraltar event is likely to attract the attention of tournament organisers worldwide.
Top seed Vassily Ivanchuk drew a short game with Le Quang Liem but in the evening he sparkled in a master class chaired by tournament director Stuart Conquest. He is one of the great names of the modern game and his humorous anecdotes and expressive manner entranced the audience at the Caleta Hotel as well as the many thousands watching online. A video of this master class is available for viewing at the tournament website, www.gibraltarchesscongress.com.
Last year's winner Nigel Short has staged a remarkable recovery after his shock defeat to a Spanish international master in the second, winning five consecutive games. If his run continues, he has a strong chance of retaining his Gibraltar title. The other top English grandmasters, Mickey Adams and Gawain Jones, are amongst the group of players on 5½ points and are also well placed to challenge for a high position.
Gibraltar Masters 2013, Round 4
Valhondo - Kvisvik

Here Black is in check and has to move his king. He played 1...Kd7 which allowed White to play 2 Rf7 pinning the queen against the king. Had Black made a stupid mistake? Not at all – he had set a very clever trap. Look what happened next... 2...Rxh2+! 3 Kxh2 Rh8+ 4 Kg3 (Now, if White plays 4 Kg1, there follows 4...e2+ discovering check from the bishop, followed by promoting the pawn to a queen giving checkmate.) 4...Bb8+ 4...Bb8+ and White resigned. If he plays 5 Kg4 then 5...Rh4 is checkmate.
Round eight of the Masters takes place at the Caleta Hotel at 3.00pm on Tuesday afternoon.
Official website: www.gibraltarchesscongress.com