Nov 13 - GFA Announces A Team Line Up for First UEFA Friendly Against Slovakia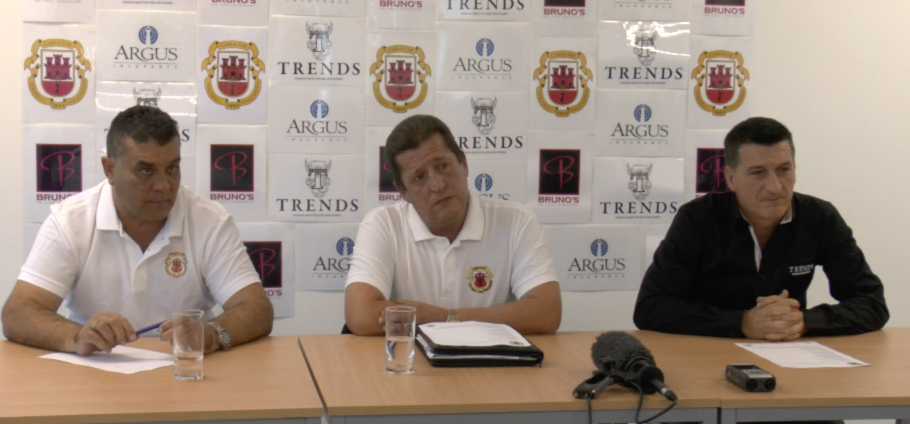 Ahead of the GFA A Team's trip to Portugal tomorrow, to play their first friendly match under UEFA, against Slovakia, President of the Association Desmond Reoch, along with team manager Allen Bula and Grassroots Manager Leslie Asquez, announced the line up for the team set to play next Tuesday. The 23 man squad will see Roy Chipolina of Lincoln FC act as captain, with newcomers Danny Higginbotham of Chester FC, Scott Wiseman of Barnsley FC and Adam Priestly of Farsley FC joining the team.
At a press conference today, President Desmond Reoch announced new eligibility criteria for players within the GFA. The new criteria meets UEFA and FIFA recommendations and follows that of England and the rest of the UK. Team players must have a British passport and a Gibraltarian biological parent or grandparent. Other options allow players who have attended school in Gibraltar for at least 5 years up until they were 18, and players born in Gibraltar to participate in UEFA matches.
Speaking to the Press, Coach Allen Bula insisted that he chooses players on the premise that they are match fit, and play his kind of football. Mr. Bula noted that the team's system of training has changed, with players now training with their clubs most of the time. Mr. Bula is now entitled to call upon players 48 hours before an International friendly and four days before a qualifier or week of qualifiers.
Commenting on the backgrounds of the new additions to the team the team Manager stated that Danny Higginbotham is a Premiership league player for Stoke City. Scott Wiseman plays for Barnsley and Adam Priestly is a semi-professional player in a lower league.
Mr. Reoch explained that the Association was treating the match as a 'dress rehearsal' for the European qualifiers in September. Other team members set to play against Slovakia next Tuesday at the Estadio do Algarve are; Jordan Lopez of Lincoln FC, Jamie Robba of Lynx FC, Kevin De Los Santos of Man Utd 62 FC, Ryan Casciaro of Lincoln FC, Matt Reoch of Man Utd 62 FC, Jack Sergeant of Man Utd 62 FC, Daniel Duarte of Lincoln FC, Julian Bado of Lynx FC, Daylian Victor of College Europa FC, Kyle Casciaro of Lincoln FC, Lee Casciaro of Lincoln FC, Al Greene of Glacis Utd, George Cabrera of Lincoln FC and John Paul Duarte of Lincoln FC.