Jul 17 - GHA Website Allows Users to Cancel Appointments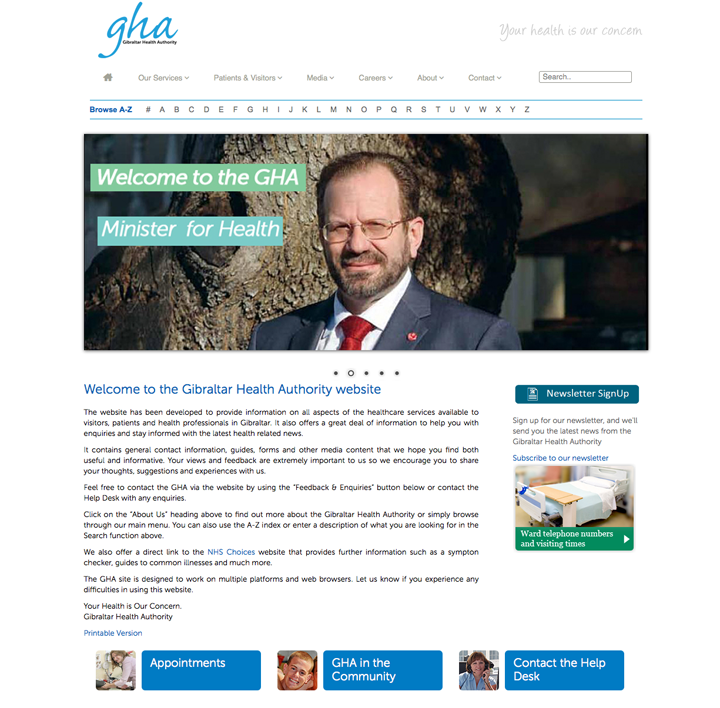 Launching the innovative GHA website this morning, Health Minister Dr John Cortes insisted that 160 page site portrayed how dynamic and forward thinking the Authority was. He also urged site users to present their feedback by contacting the in house team.
The GHA IT team, consisting of Darion Figueredo and Leigh Adnett designed and developed the WordPress website completely in-house in order to obtain complete control over the content that is uploaded. The website currently provides information on all aspects of Gibraltar's healthcare services, as well as brochures and pamphlets on all GHA departments. Users can also cancel any appointments on the website. When asked whether the possibility of making or changing appointments would become available through the website, Dr. Cortes insisted that this would be a possibility in the future. He noted that along with the website, the Authority's twitter and Facebook pages were to be launched today, also.
 Detailing the numerous pages on the site, Darion stated that the website links directly to the NHS Choices page which contains extensive articles and symptom checkers. The site is designed to work on multiple platforms and web browsers and shall be developed and enhanced with new features and functionalities. He added that eventually page updates would be made by each department, ensuring that information is up to date and accurate.
Commenting on the website, Dr. Cortes said, 'we have assembled this site as a way of improving the dissemination of information about the Gibraltar Health Authority and to offer health information to residents and visitors alike. I am sure that you will find the necessary information about the many services we provide and hope that you will find the content both useful and informative.'