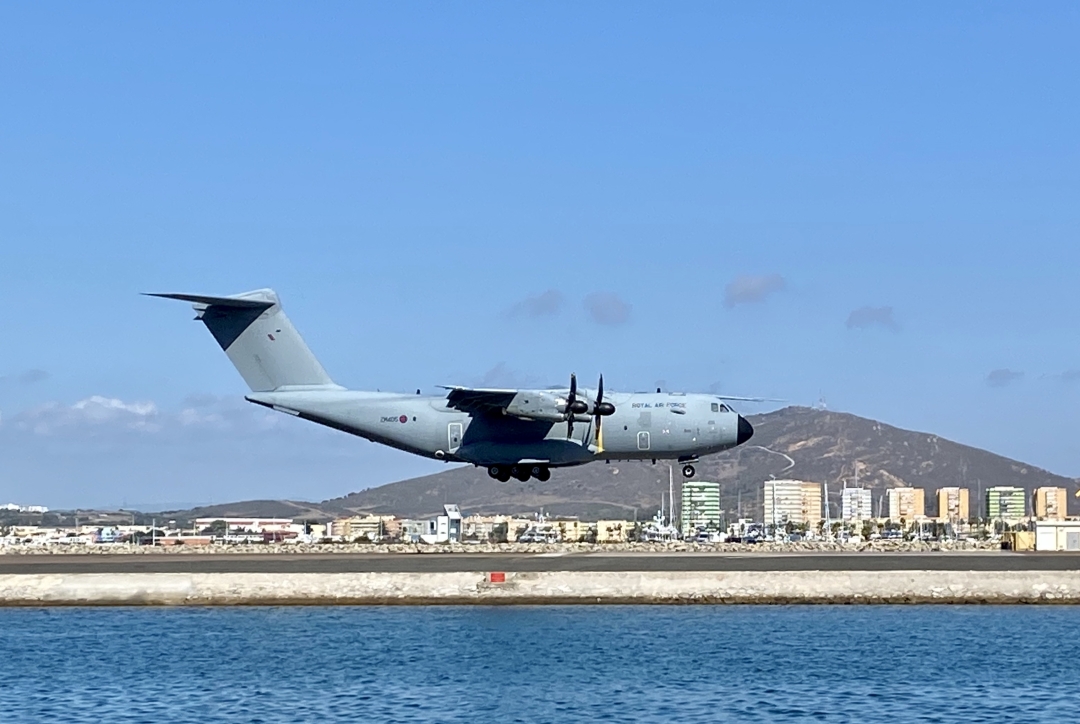 Military Movements Review: October
YGTV's article series continues - each month, David Sanchez will review military visits to the Rock. Drawing on his in-depth knowledge and photographic skills, the articles will provide readers with valuable background facts to the aircraft and vessels that pop into the Rock.
By David Sanchez
The cooler weather heralded by the autumnal month of October certainly did not bring about a major cooling off of military activity in Gibraltar. The aviation scene maintained a similar tempo to recent months and at sea there was a less noticeable but still interesting amount of activity with one very special guest making a much-welcomed return to our shores.
Our familiar friends the RAF A400s dominated the visits to our airfield during October once again, proving that we have become a very frequently used base for these large machines. Our first one called in on the 3rd in the form of ZM402. 
The show stopping C17 was also seen at RAF Gibraltar this month in the form of ZZ172 which yet again wowed the crowds with one of their impressive landings on the 10th. Two days later another A400, ZM405 paid us a visit. An 8-day hiatus of activity then ensued before the rare but nonetheless much welcome sight of a BAe 146, ZE708 was seen on the 20th. I keep predicting that one day we will see the last of these attractive four engine transports but gladly this seems not to be the case as they still call with relative frequency. I speak for many when I say that it helps to break the now-predictable monotony of A400 visits. For such a vitally strategic forward mounting base it is a matter of some frustration that the variety of visits isn't as wide as would have been expected in better days. Once again, I make another plaintive cry for fast jets, at this point many would settle for a Hawk, another familiar visitor that inexplicably vanished from our skies!
A brace of A400s on successive days wrapped things up for RAF Gibraltar for October with ZM402 arriving on the 24th and ZM419 a day later.
At sea we only had the one 'grey hull' visit but quality in this case more than made up for quantity as shall be seen!
Our friends the United States Department of Defense charter fleet were very frequent visitors this month however, the cargo vessel SLNC Magothy paid the first of two visits on the 6th of October calling for bunkers on her way into the Mediterranean with the Vehicles Carriers Liberty Peace conducting a boat transfer on the 19th and her sister ship Liberty Pride doing the same on the 31st making it a very busy month for these often overlooked visitors. Where we suffer a painful lack of United States Navy surface ship visits (since 2009!) we make up for in less high-profile charter vessels so it seems that we are not as frozen out of the Special Relationship as many theorise. 
A most notable visit occurred on the 11th however in the form of the Hydrographic Survey Vessel HMS Enterprise. She made a weather-beaten sight as the hard-worked vessel returned from a very long deployment that saw her sail as far as Japan and even an unplanned visit to Beirut where she conducted humanitarian operations following the devastating explosion at the port there. Lastly, she entered the Black Sea before proceeding homewards. In command was Gibraltar's very own Cecil Ladislaus, a true character and a very popular person locally. It was heart-warming to see him treated to churros by the local Government on the morning of his arrival, what a fitting way to welcome one of our very own home! A very big Bravo-Zulu must be extended to this fantastic vessel and her highly professional crew on a very successful and marathon deployment!
Other visits this month included the usual MoD charter RO-RO in the form of Anvil Point on the 14th and the buoy tender Kingdom of Fife which called in on the 23rd and serviced the Western Approach Buoy off North Mole.
As I mentioned above, October was in many ways a run of the mill month for military visits but the sight of HMS Enterprise certainly lifted spirits as only a vessel commanded by a Gibraltarian can. We now head into the final stretch of the challenging year that has been 2020 but if things stay as they are, a year that could have been better seems to have resulted in one which also could have been very much worse for military activity on the Rock. We shall see if this year will end with a whimper or if, like a good firework display, 2020 bows out with a flourish!