Jul 17 – Alabaré Charity Receives Overseas Support For Veterans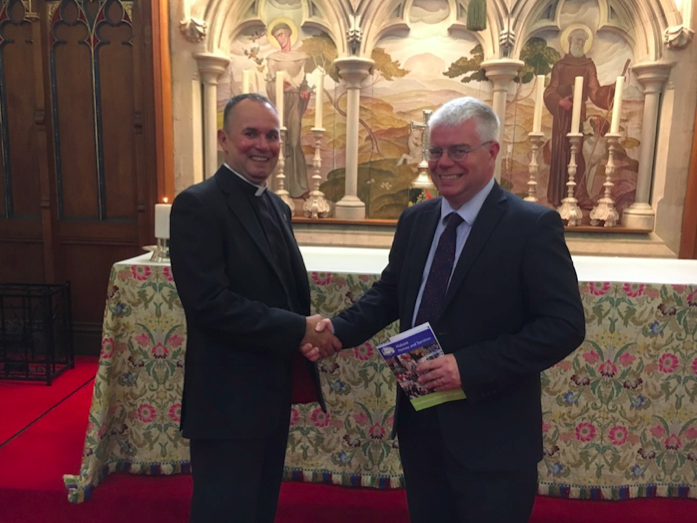 Recently, in the presence of His Excellency the Governor of Gibraltar, Lieutenant General Edward Davis and Commander British Forces, Commodore Michael Walliker, Andrew Lord CEO of Alabaré Christian Care and Support received a cheque for £1,500 from Rev Mike Wagstaff in a packed King's Chapel, Gibraltar.
In addition to the regular congregation, there were many retired WRNS in King's Chapel together with servicewomen currently in stationed in Gibraltar. as the service coincided with the WRNS 100th Anniversary event on the Rock.
Presenting the cheque to Alabaré, Rev Wagstaff said: "Here at King's Chapel we work to serve not just the defence community on the Rock, but the whole community wherever it might be and including anyone who, at any time, has served their country in the Armed Forces.  And those marginalised members of that community - those who need housing or other support - deserve our special support. It is with great pleasure and pride in what they do that we have been able to help Alabaré in a small way."
In reply, Andrew Lord outlined the work that Alabaré did in support for Veterans and recounted the experiences of one who was most grateful for the care and backing he had received. Andrew thanked the King's Chapel's congregation most warmly for their support and said the charity would use the donation to good effect.
Also present in the congregation were Alabaré's Ambassadors Commodore Jamie Miller, Commodore Richard Lord and Brigadier Christopher Lunn.
Pics:
Top left: Rev Mike Wagstaff after presenting the cheque to Andrew Lord
Below: Left to right - Brigadier Christopher Lunn, Rev Mike Wagstaff, Andrew Lord, Commodore Jamie Miller RN, Commodore Richard Lord RN and Brigadier Christopher Lunn.