Sep 17 - Charity Trek Success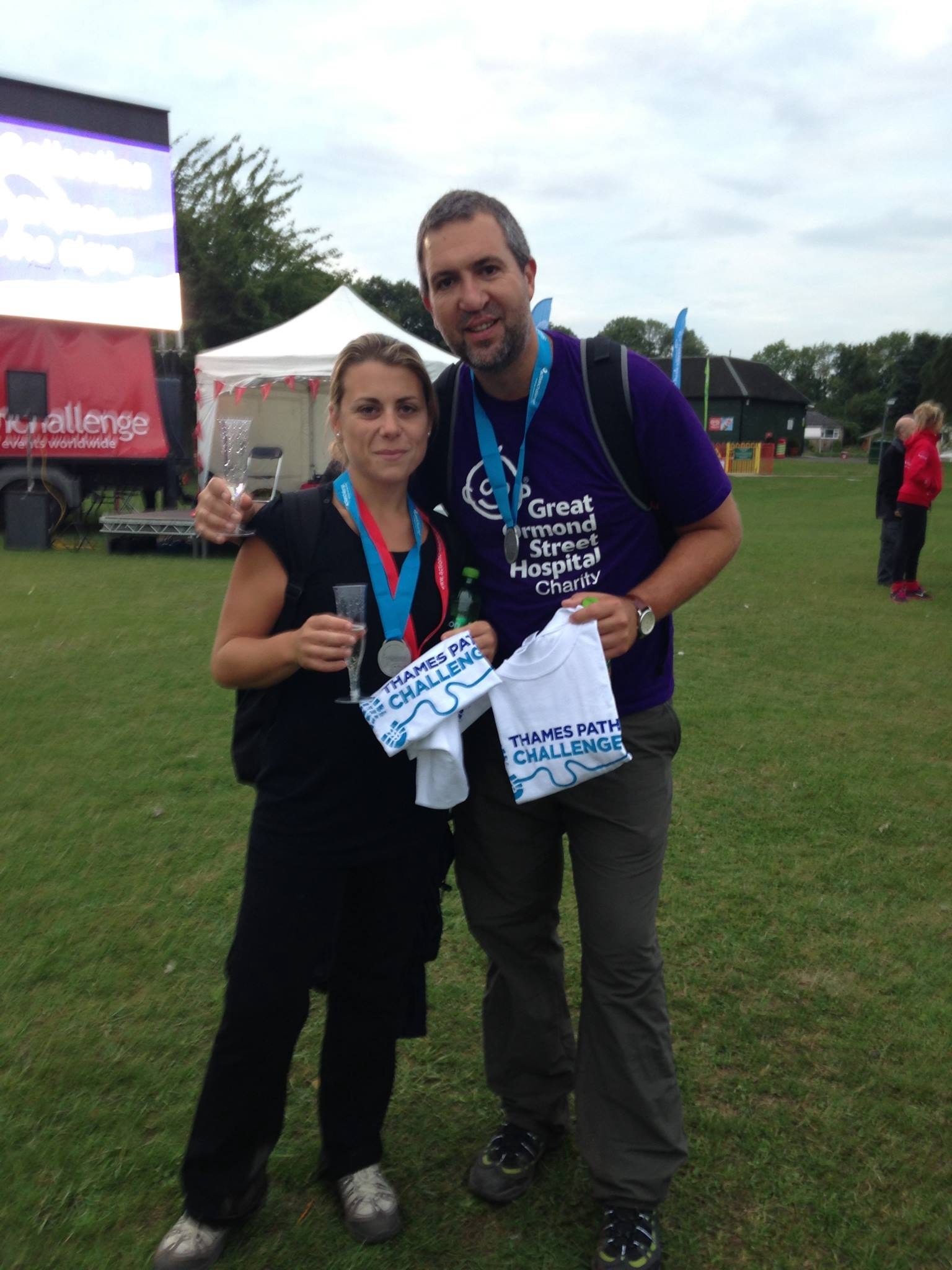 Genevieve and Fabian Vinet successfully completed their 50-kilometer Thames Path Challenge Trek on Saturday. Despite having set themselves a target of completing the Walk within twelve hours, they managed to finish the entire Challenge in exactly 10 hours and 30 minutes.
'The faster pace did come at a price,' explains Fabian. 'At around the 26km mark the pain set in and after stopping for lunch at the 29km point, I was literally almost unable to move and for a few minutes thought Genevieve would have to continue without me. Thankfully the painkillers and muscle-relaxant spray helped, as did the adrenaline and determination, and so we managed to soldier on.'
Having started near Putney Bridge, Genevieve and Fabian joined hundreds of other participants, walking alongside the River Thames, often on muddy and rocky terrain, past Hammersmith, Chiswick, Fulham, Richmond, Hampton, Kingston, Twickenham and beyond, finally finishing at Runnymede. Many participants were unable to complete the Challenge, with several requiring medical attention and being picked up by ambulances along the way. Was it all worth it? Fabian is adamant: "Absolutely. I think it's been one of the best things we've ever done. Being able to walk those 50km in one go was in itself an achievement that we are proud of, but knowing that we were helping two worthy causes in the process made it all the more worthwhile."
The trek was undertaken to raise funds for both the Rainbow Ward at Saint Bernard's Hospital and London's Great Ormond Street Hospital. Mr and Mrs Vinet had hoped to raise a total of £10,000, but while the response from individuals and the business community has been excellent, that target has not yet been met.
Donations will continue to be accepted until the end of September. Members of the public can donate by posting cash to 62 The Anchorage, Rosia Road, Gibraltar. A special account has also been set up by NatWest for those who prefer to transfer or deposit sums. The account number is 48057665 (sort code 60-60-60), under the name of 'FJ & G Vinet (Thames Path Walk)'.