Miss International - 5 Days In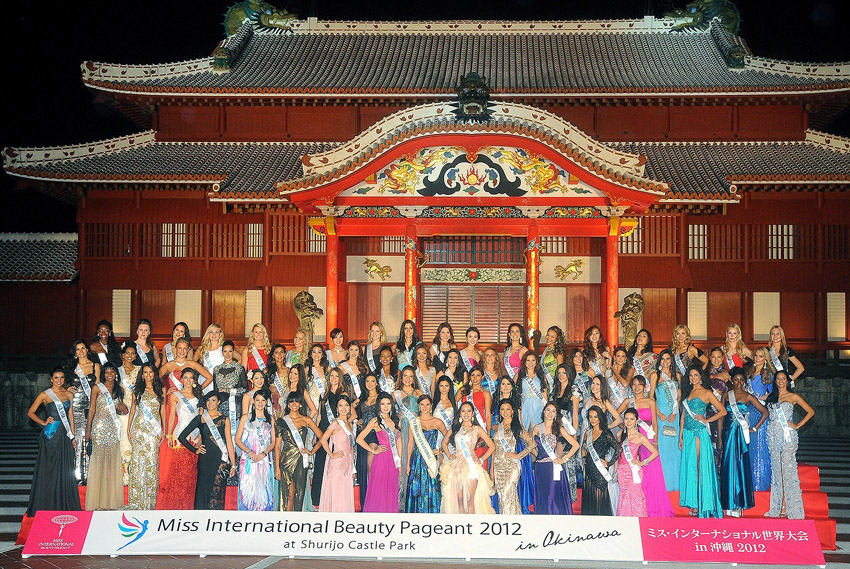 Hi everyone,
It's already been 5 days since I arrived to Okinawa and it feels like I have been here much longer due to the non-stop activities, but I'm loving every minute of it! I am embracing the Japanese culture and it's becoming natural to me to bow my head when I get to meet the locals when we're out on our trips, arigatou seems to just roll off the tongue and as I'm becoming good friends with miss Japan (my chopsticks technique has definitely improved).
One of my highlights so far has been the press conference, where I was interviewed by a Japanese news station (with a translator of course, I'm not fluent yet!) and then taking a group photo by one of the most historical sites on the island.
I have been grouped together with 9 other girls, one being my room mate Guam, followed by miss Japan, miss India, Indonesia, Belarus, Estonia, Italy, Hong Kong and Hungary (group pictures of group b to follow). This week our activities have been mainly to do with getting to know each other and filled with communication work shops - (felt like a student again which bought back good memories) - as one of the key values of the organisation is cultural exchange, we each have to talk about our home land. And if there is one thing that I am definitely gaining from this experience is that we should count our lucky stars to be living in a place like Gibraltar.
Compared to other countries who have countless religious riots, political riots, poverty, high mortality rates due to lack of proper medical facilities and HIV being a major problem within teenagers - we as a nation are one of the most flourishing countries present here at miss international. For the first time ever, I was sitting within a group of people absolutely gob smacked! You hear these events on the news, which majority gets glamorized, but these girls actually live through it and I'm hearing their side to the story.
On a lighter note, we got given a new Panasonic smart phone as a gift! I'm over the moon!!! So I will be able to keep in touch much easier and upload more photos of my trip! They want us to Tweet and Facebook about our experience and showcase to the world what Okinawa has to offer. I had an opportunity to introduce myself to the president of the organisation, and one of the things that I mentioned was that Okinawa reminds me of back home, in the sense of how relaxed and welcoming the people are on the island are. Also (and most importantly) there is a prize called miss Internet and what you have to do is go on to the flicker site of the miss international organisation website and click on the contestants photo - I would be greatly appreciated if you be able to take the time to just vote and share :). Voting starts on the 6th so I will post the link then :)
I will be in touch soon!
Bye, adios and sayanora xx
Thanks to Kerri's Sponsors: