Oct 11 – Corporal Carter Awarded Queen's Commendation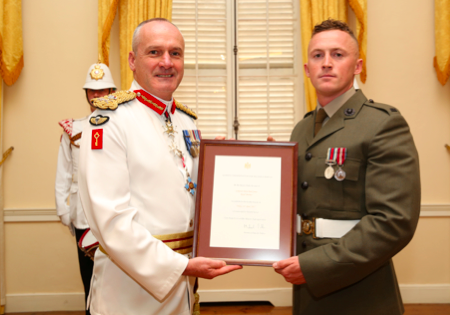 At an Investiture Ceremony in The Convent yesterday, His Excellency the Governor Lieutenant General Edward Davis formally presented Corporal Adam Carter Royal Marines with the Queen's Commendation for Valuable Service (QCVS). The award recognises service during or in support of operations and was awarded to Cpl Carter in recognition of his outstanding performance in the Royal Navy Gibraltar Squadron (RNGS).
On being presented with the Queen's Commendation, Cpl Carter said: "I am incredibly proud to have been awarded the QCVS. The RM core values demand courage and determination and I hope to always exude these qualities."
As one of the Squadron Rigid Hull Inflatable Boat drivers. Cpl Carter set a fine example and was instrumental in the success of the Squadron. Whilst his courage and composure have been put to the test on a number of occasions, it was his actions during an incident that stood testament to his utter professionalism. Responding to the incident in British Gibraltar Territorial Waters Cpl Carter demonstrated outstanding leadership. With a complete understanding of the mission, his seamanship and boat handling skills were exceptional as he dealt with a potentially life-threatening situation superbly, demonstrating admiral restraint and disciple. Despite significant provocation he remained calm, and his cool-headed actions enabled the successful prevention of a direct challenge to UK sovereignty. Fully tested in the face of very real peril, Cpl Carter's determination was exceptional and in the finest traditions of the Corps.
Following the Awards ceremony, Lieutenant Commander James Myhill Royal Navy, Commanding Officer Royal Navy Gibraltar Squadron said: "The actions of Cpl Carter during a particularly serious incident in British Gibraltar Territorial Waters (BGTW) were exemplary. I am delighted that his professionalism has been recognised in the State award of a QCVS.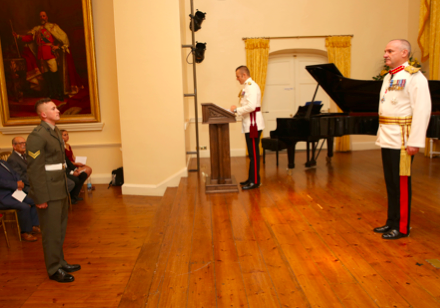 {fcomment}