Feb 23 - Former Regiment Bandmaster Awarded MBE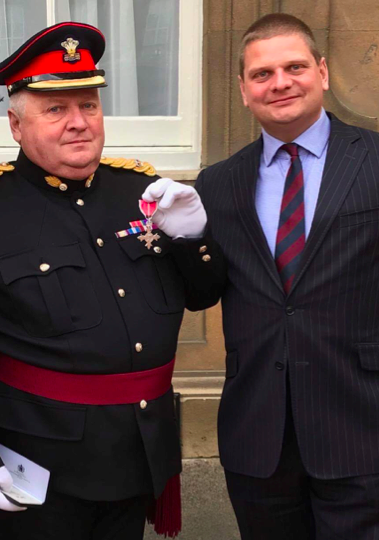 Former Royal Gibraltar Regiment Bandmaster Major Denis Burton was recently awarded an MBE by HRH The Prince of Wales at Buckingham Palace.
Major Burton was instrumental in establishing the Royal Gibraltar Band in 1992 which he then led in a Ceremonial Convent Guard, one of its first events as the newly established unit.  
An MoD spokesperson said: "Without Major Burton's efforts in 1992, we would not have the professional band we see today. The RG has a legacy of being a family Regiment, and this extends to the wider forces community. WO1 Richard Burton is the current Band Master but more importantly, he is the son of Major Burton."
For the last 10 years Major Burton has held the position of Director of Music, Band of The Royal Welsh (Army Reserve) and was honoured to receive the award for services to Army music in Wales.
WO1 Burton said: "I am proud to serve as Band Master of the RG band, more so as my father was instrumental in the setup. The MBE my father has received is a great recognition to his long term dedication to military music".
Major Burton joined the Army in 1972 and his combined Regular and Reserve service totals 45 years.
Pic: Major Denis Burton with his son, WO Richard Burton